TV
'The Bachelor: The Women Tell All' Superlatives: Biggest Mean Girl, Most Delusional & More!
By
ABC

WARNING: We're about to discuss our reactions to Monday's special episode of The Bachelor: The Women Tell All. If you do not wish to know about the biggest crazies, pluck yourself a pomegranate and get out of here.

TV, TV on my wall – who's the craziest bachelorette of them all?
We've desperately wished for this day to come, we've crossed off the days on our calendar, and now that it's finally happened, it was even more glorious than we could have ever imagined. We're talking, of course, about The Bachelor's notoriously bat-s**t crazy special: The Women Tell All.
Amidst the usual backstabbing, blubbering and drunken behavior, ABC struck gold on this season of The Bachelor thanks to a handful of unbelievably outrageous and bizarre women. To celebrate their final appearance on our TV screens this season, we at ETonline are crowning 6 lucky contestants with their very own Bachelor season superlatives.
NEWS: 9 Reasons Why Kaitlyn Bristowe Should Be the Next 'Bachelorette'!

Most Delusional:Kelsey

Why: Manipulative, calculated and condescending are the three words that best come to mind when thinking of Kelsey. But what makes her our Most Delusional, is the fact that she thinks she's the victim of the season, rather than what she really was: the villain.

Signature Quote: "Isn't my story amazing? Its tragic, but it's amazing."

Biggest Crybaby:Britt

Why: Do we really need to explain why? Just look at her! It seemed like each and every Bachelor moment she was blubbering. All we can say is thank goodness Britt discovered waterproof mascara or else she'd be pulling a full-on Lauren Conrad all season.

Signature Quote: [Writer's Note: We couldn't transcribe Britt's words because she was crying too hard for us to interpret. We're pretty sure it had something to do with Arlington sunsets or berry-colored lipstick.]

Most Popular: Kaitlyn

Why: We've said it before and we'll say it again: Kaitlyn should be the next Bachelorette! Kaitlyn is adorable, gorgeous and hilarious all rolled up into one beautiful package.
Signature Quote: "You can plow the f**k out of my field any day."
NEWS: Chris Soules Reveals He's Found Love on 'The Bachelor'

Biggest Mean Girl: Carly

Why: Even though we completely understood where Carly was coming from when it came to Britt's seemingly "fake" behavior; sometimes the cruise-ship singer took her obsession for romance ruining a little too far.

Signature Quote: "It's fun to watch her squirm. I've squirmed so much. The girl who was the prettiest girl in the room gets to know how it feels to be a normal person ... how's it feel?"

Most Eccentric: Ashley S.

Why: If you are still not convinced that Ashley S. is an onion obsessed, Mesa Verde-loving, zombie-killing ball of craziness, then please take a look at this article that is entirely devoted to her.

Signature Quote: "If it's a pomegranate then God bless it." OR "You don't want to lose the whole world, right? But actually you want to gain the whole world." OR "Like that's how I feel, it's like boom. Boom like the truth. Boom!"

Biggest Flirt:Chris Soules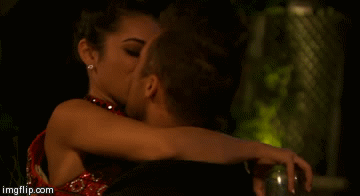 Why: According to our host extraordinaire, Chris Harrison, our prince farming has kissed "more women than any other Bachelor in ABC's history." Yikes!

Signature Quote: "I could really see myself with [insert almost every girl's name here]."
The season finale of The Bachelor airs Monday, March 9 at 8 p.m. on ABC.

What did you think of The Bachelor: The Women Tell All?
Which bachelorette superlative would you give the girls? Chat with @LeanneAguilera on Twitter!

Related Gallery