TV
'RHONY' Hits 100 Episodes: Looking Back at 'Scary Island' and the Ladies' Best Fights Ever!
By
On Tuesday night, The Real Housewives of New York celebrates its 100th episode with the aptly titled, "Sonja Island." Yes, Bravo is that brilliant.
RELATED: RHONY Exclusive: Kristen Comes to Ramona's Defense in Turks and Caicos
In honor of this milestone, we're looking back at RHONY's best fights ever (in the video above), and celebrating one of the most beloved and critically acclaimed(ish) television events of our time: the 'Scary Island' episode.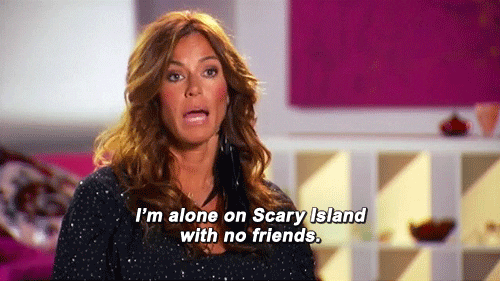 Let's set the scene. It was season three. Some of the ladies headed to the Virgin Islands. Not Jill Zarin, though.
Kelly Bensimon had spent the trip on the phone with Jill, relaying her nightmares about Bethenny killing her with a knife.
...There was no real explanation for the visions. But things got more and more volatile, and it all culminated in one of the most intense and memorable dinner parties in Housewives history. That's saying something.
Kelly said she thought Bethenny had been spreading lies about her to that vague enigma that is "the press." And lies about other people, too.
Kelly just kept saying names.
And eating jellybeans.
Ramona Singer did what she does best: drank pinot grigio.
Bethenny was reaching a breaking point. But, she's still funny, clever Bethenny. So she tried using a cereal analogy to get everyone on the same page.
Then, B couldn't take it anymore. The Skinnygirl's big eyes got even bigger and her wit went out the door. You might call this her "Teresa Giudice moment."
Bethenny screamed at Kelly, called her "crazy," and ultimately Sonja Morgan (yes...SONJA) became the voice of reason.
She got the ladies to take pity on Kelly, and they backed off. Kelly calmed down and the rest is Housewives history.
RELATED: Bethenny Frankel Reveals Her Weight, Admits
'Sometimes She Looks Too Thin'
Watch 'Scary Island's' dinner "party" here, watch The Real Housewives of New York Tuesdays on Bravo at 9 p.m. ET/PT, and then...