TV
'Orange Is the New Black': 9 Things You Need to Know Before Binge-Watching Season 4!
By
Welcome back to Litchfield!
After a year of being away from our favorite on-screen inmates, season four of Orange Is the New Black is almost here.
To get you prepared for the next -- and dare we say, best! -- season ahead, we at ET have already watched the first six new episodes of the smash Netflix dramedy and compiled nine things you absolutely need to know before bingeing your heart out this weekend.
Plus, we recently caught up with a few of Litchfield's finest actresses, including Taylor Schilling, Kate Mulgrew and Taryn Manning, at The Paley Center for Media in Los Angeles to bring you inside details on all the chaos and craziness ahead.

WATCH: 6 WTF Moments From the 'Orange Is the New Black' Season 4 Trailer

1. Piper Continues to Be the Worst: Oh, Piper. We adored/tolerated you for the first two seasons of Orange, but your panties-obsessed storyline is getting a little soiled. (Disgusting pun totally intended. Sorry.) Piper's delusional arrogance increases tenfold this season, especially when she utters this gem-of-a-line in the premiere episode: "I'm gagnsta -- like with an 'A' at the end." Schilling confessed that Piper will continue to rub people the wrong way this season -- even if it's not intentional. "She is trying so many different things to be OK this year and she's not making the best decisions, but she's trying," she said.
2. The Flashbacks Are Few and Far Between: Unlike past seasons, we won't be seeing many pre-Litchfield life flashbacks. We'll be getting a few glimpses into our characters' backgrounds every once in a while, but the majority of the episodes are focusing on present life in prison. However, which prison we're referring to is something you'll have to wait and see.
3. Overcrowding Is a Serious Issue: Since the walk-out in the season three finale, there's a brand new crop of C.O.'s that have sprouted at Litchfield to help with the overcrowded halls, and it's proving to be the catalyst for most of the problems in season four. "It's a lot of changes," Manning, who plays Tiffany 'Pennsatucky' Doggett, explained. "It feels crowded and claustrophobic."

WATCH: 'OITNB' Stars Reveal Which Inmate They'd Want as Their Real-Life BFF!

4. Familiar Faces Will Return: We won't say where. We won't say when. And we won't say who -- but we can say that you will not be disappointed.
5. You'll Meet New Inmates: True, you won't love or care for any of these new characters as much as our OG inmates, but it definitely will shake things up. "Any type of new meat is always interesting in the prison system," Selenis Leyva, who plays Gloria, spilled. "It always changes the dynamic. And this season is definitely going to be a little rough." Our personal favorite newbie is Judy King -- the Martha Stewart-inspired character who treats Litchfield like some kind of haphazard day spa.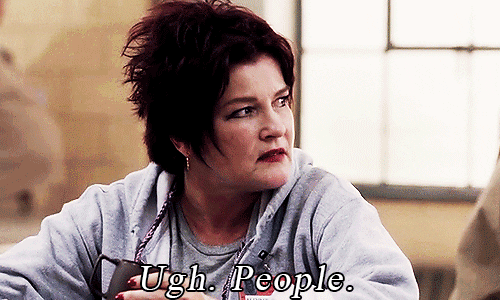 6. Red Will Be Seeing Red: Speaking of new inmates, no one else will be suffering from this overcrowding more than Red. "I like my territory," Mulgrew stressed. "I like it to be sacrosanct. The impingement on my privacy is disconcerting to say the least. So I will rise against that. However they are formidable in their size and dimension." Mulgrew added that although it's a "tough season" for Red, she refuses to succumb to the chaos. "Red doesn't buckle," she said. "She is undaunted. Bloodied, but unbowed."

MORE: 22 Burning Questions We Have After Seeing These New Season 4 'OITNB' Photos!

7. New Romance Will Bloom: It wouldn't be Litchfield without a little love in the air! New couples will conjugate, flirtations will finally come to fruition, and there's even a beyond-adorable Say Anything moment that is sure to make you swoon. Also get ready for plenty of oral sex (and we mean "oral" as in strictly verbal) and our personal favorite moment: two OITNB fan-favorites will get together and you'll never see it coming! As for Piper? Schilling revealed that Chapman's love life is "changing a little bit," so we'll leave you to mull over that vague spoiler...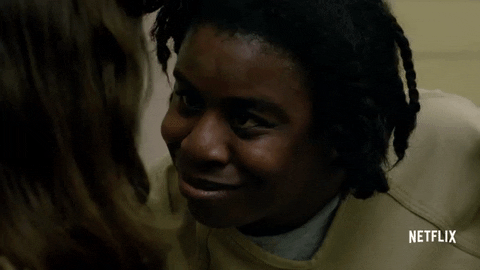 8. Season Four Is the Darkest One Yet: From gruesome deaths, to manipulative backstabbing, and heartbreaking isolation -- OITNB's fourth chapter is a bit on the bleak side. "We're staying true to the formula," Leyva explained. "It's a dramedy. It still is. But there are a lot of dark moments. I think people are going to be surprised at how dark we're going to go."
9. But There Are Still Plenty of Laughs: Despite the fact that the premiere -- hell, make that the first six episodes! -- are dark and gritty, you'll still find yourself genuinely laughing out loud. "There's still a tremendous amount of humor. It's still really, really funny," Schilling said.
Season four of Orange Is the New Black premieres Friday, June 17 on Netflix.