'Mariah's World': Mariah Carey Recalls 'Great Moments' with James Packer as Bryan Tanaka's 'Crush' Is Revealed
In Mariah's world -- her literal world, which also obviously serves as legendary fodder for the aptly titled eight-part E! docu-series Mariah's World -- if there's no Apple TV, there's no show. (It makes you wonder: How did the diva of all divas perform before digital media players?)
But in the grand scheme of Mariah Carey's outsized life, which we're privy to in this "don't call it a reality series" circus of a show that actually does feature her ex-fiance James Packer (and new admirer Bryan Tanaka), it's as vital as the oxygen she breathes and the fifth octave she hits. According to Molly, a past pet poop scooper-turned-new Mariah assistant, without it, "she can't sleep," which means, "she can't perform. … If it's not there, everything else falls apart."
"It's the most important thing for Ms. MC," Molly reveals in earnest.
WATCH: Mariah Carey and Bryan Tanaka Kiss, Show Off All the PDA on Hawaii Beach Getaway 
Will our elusive chanteuse enjoy an Apple TV moment in time for her tour launch? And just how much of Mariah's success does she owe to Steve Jobs?
Here are 15 other revelations from Mariah's World you need to know: 
1. Packer Surprised Mariah With Her Own Yacht Because Their Sleeping Patterns Are Different
"He has so many responsibilities and I'm a night person, (so) it's not easy for us to spend every day together," said Mariah, luxuriating on her yacht as she took a gander at ex James' yacht over yonder. "But when we do things," she added, "we have great moments together. I think he's fantastic."
2. Mariah Never Could Forget Backup Dancer Bryan Tanaka's Abs
He was a "young buck" when they first met in 2005; she was Mariah Carey. When MC and Bryan Tanaka reunited during dance rehearsals for her Sweet Sweet Fantasy Tour (the two embraced in a hug) and all the fellas took their shirts off, Tanaka left his on. This was of no concern to Mariah because, regarding his body, "I remember from the last time." Meanwhile, a member of Mimi's team reveals that Tanaka "does have a crush on her."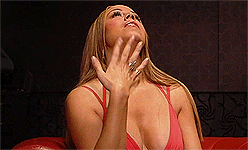 3. She Wanted to Wear a Tiara at Her (Now-Nixed) Wedding With Packer
But just a "little" one, she clarified, while getting fitted for her wedding dress before the wedding was later called off. Though their split ultimately canceled the ceremony altogether, Mariah says she made the "hard decision" to postpone it to go on tour.
4. Our Singing Mermaid Swims in Diamonds and an Actual Dress
The MTV Cribs icon, who once bathed in a towel, also swims in haute couture and expensive jewelry, knows it's ridiculous, doesn't care: "Whatever, this is perfectly normal. Everybody does this."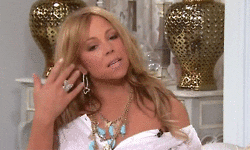 5. Mariah Will Not Be Another Talking Head
Instead, during her confessionals, she will stretch out amid a sea of carefully-placed pillows on a settee in a corset, because this is Mariah and this is her world.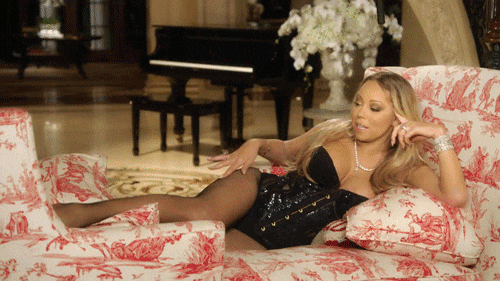 WATCH: Mariah Carey's No. 1s Ranked from the Best to the Very Best
6. She Has No F**ks Left For Fluorescent Lighting
While walking into a rehearsal studio, MC informs us that, "I have a rule, which states that I will not be seen in fluorescent lighting without sunglasses. I know it's very '90s. I don't give a f**k." (She was wearing sunglasses at the time.)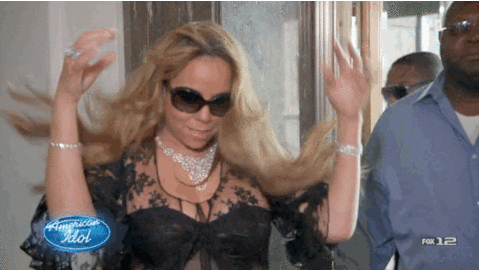 7. Mariah Carey Will Always "Treasure" a Docu-Series About Mariah Carey
"I have never wanted to do this documentary in my life," she admits, while doing this documentary. "There's so little privacy in entertainment anyway. But I think if I don't document this now, I don't know when I'm gonna do it again, and I think it's gonna be something that I'm really gonna treasure ultimately." Us too, Mariah. Us too. 
8. She's Easily Distracted by Cameras
Though she's no stranger to cameras, Mariah still gets sidetracked in their midst. While learning tour choreography in a "Vision of Love"-esque ensemble "from 1901," the songbird loses her focus and holds the documentarian accountable: "Sorry, I didn't know because the cameras are distracting me."
9. She's Worked With Plenty of "Bleak" People
While praising collaborator Big Jim Wright during an informal music moment in her house (obvious note: she's wearing lingerie), Mariah stops herself to shade the people she's not fond of. "Oh my goodness, there's some people I'm not even gonna get into. They're bleak, darling, they're bleak."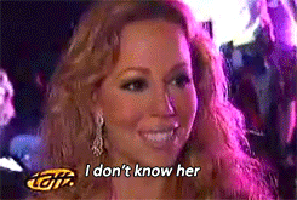 WATCH: Mariah Carey Gets Candid on James Packer Split, Bryan Tanaka Romance: 'You Gotta Keep on Pushing' 
10. "It's Difficult to Juggle a Career and Kids"
It's family first for the butterfly matriarch. And though "it's difficult to juggle a career and kids" -- the kids being her 5-year-old twins Monroe and Moroccan with ex Nick Cannon, who are featured in the show -- Mariah says, "they come first." "It's very rewarding," she adds. "I wanna make sure they always know that I'm here for them."
11. Sometimes Four People Put Mariah's Shoes On For Her
In all fairness, the shoes were lace-up heels, which the singer called "abusive."
12. GRAMMY Winner, Best-Selling Female Artist… Inventor of Acronyms?
"#JLT" (i.e. "Job Long Time") is the acronym MC casually drops after basically defending her own legacy.
13. Mariah Is a Big-Picture Person...
As manager Stella Bulochnikov hashes out tour deets during a meeting with Mariah, the singer has a not-caring moment: "It's just gonna be, 'I'm on the tour and here I am.'"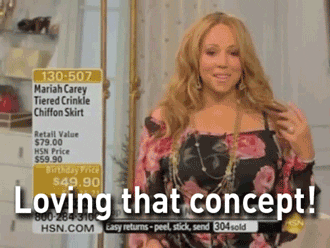 14. ...But Not a Surprise Person
Concerned about the direction of her (then) upcoming tour, Mariah expresses that she is not a fan of sudden changes without being in the know: "When they don't involve me, I hate it because it's not what I like."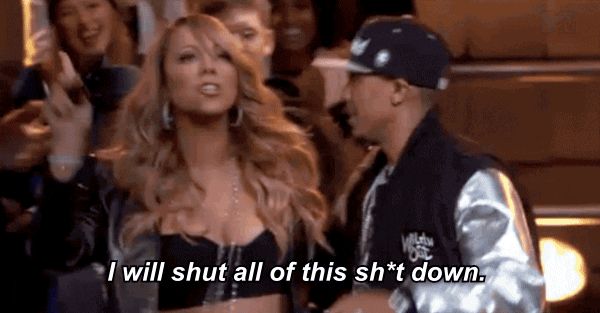 WATCH: Mariah Carey's New Reality Show Features a Lot of Dancer Bryan Tanaka, Barely Any James Packer -- See the Clips! 
15. Mariah's Alter-Ego Bianca, Played By Mariah, Thinks the Show Is 'F**king Riveting'
Did you just die when Bianca made her long-awaited return, lambs? Mariah's devotees -- her "lambs" -- were treated to a true vision of love-hate when Mariah's World opened with Bianca Storm, the singer's Mariah-shading alter-ego, who once attempted a smack-down on the singer in her 1999 "Heartbreaker" video. What a gift.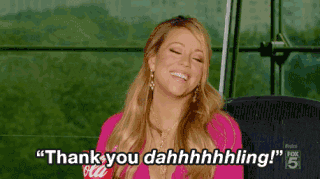 Mariah's World airs at 9 p.m. ET/PT Sundays on E!
Was the launch episode of Mariah's World everything you hoped it would be and more? Tell us in the comments below or shout your comments to (self-proclaimed lamb) @ChrisAzzopardi on Twitter using the hashtag #ETNow!
For more on Mariah's split with James Packer, watch the video below.