8 Actors Who Could Be the Next Spider-Man!
Who will be the next Spidey?
Spidey's coming home!
After the groundbreaking announcement on Monday that Sony and Marvel reached a deal for the beloved Spider-Man to appear in the Marvel Cinematic Universe, we went from marvelously happy to a bit sad. Andrew Garfield will likely not reprise his role -- and let's face it, he's a perfect Peter Parker.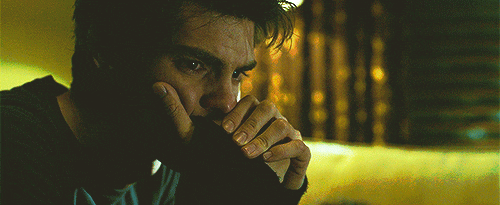 But at least we get to speculate on who should be the newest web-slinger.
Logan Lerman
Logan Lerman is known for his title role in the Percy Jackson films, or as Charlie in Perks of Being a Wallflower. The 23-year-old actor's gorgeous blue eyes and boyish charm are the perfect combo to perfectly encapsulate Peter Parker.

Daniel Radcliffe

It's been a trying road for Daniel Radcliffe to break out of his Harry Potter roots. But recent years have proven he's much more than a wizard – and let's be honest, as long as he can nail the accent, we all know he would crush it as Spidey.
WATCH: Spider-Man Makes Marvel Movie Debut, But Is Andrew Garfield Out?
Max Irons
Look at that face. Did you see it? We've seen Max Irons in films like The Host and Red Riding Hood – but that face needs more screen time.
Taylor Lautner
Before you revolt, hear us out. Lautner has been stuck in Team Jacob land for years now, and it's time for him to break free from the Twlight zone. Lautner's funny, charming, and a good actor – he just needs the right role to prove it.
Tyler Posey
Posey for the win! The Teen Wolf star is already a fan favorite in the running for Peter Parker, and his previous roles prove he has enough agility and charm to sling around like Spidey.
Dylan O'Brien
From one Teen Wolf star to the next -- 23-year-old The Maze Runner star Dylan O'Brien is another fan-favorite to replace Garfield.
Donald Glover
In 2011, Marvel Comics introduced Miles Morales, a post-Peter Parker Spider-Man inspired by Barack Obama and Donald Glover. This sparked a social media frenzy to get Glover for the title role in the 2012 film The Amazing Spider-Man. Now, #DonaldForSpiderman is back with a mighty vengeance. Give the people what they want!
Andrew Garfield
Don't leave us, Garfield.
We'll first see him in an upcoming Marvel movie with reports surfacing that it will be Captain America: Civil War. Sony will release the solo film in July 2017.

Tweet us your casting choices for the next Spider-Man using #ETnow.


Follow Ashley on Twitter: @AshCrossan