News
Harry Styles Perfectly Responds to Taylor Swift's Songs About Him!
By
ETONLINE
Harry Styles really is a class act!
During a Google Hangout with One Direction, Harry revealed how he really feels about all those new tunes Taylor Swift wrote about him on 1989 -- and his answer was perfect.
About 30 minutes into the chat, 1D's director/producer pal Ben Winston (he also produced their film This Is Us) asked the 20-year-old pop star, "This Taylor Swift set mate, she's written some songs about you - it seems like. Does that feel odd when people write songs about you, or, are you okay with that?"
Harry, without hesitation, answered with class, explaining, "We write from personal experience, and I think everyone does, so it would be hypocritical of us to be like, 'Oh you can't write about us,' And she's really good, so they're good songs, " adding, "I'm really lucky in that sense."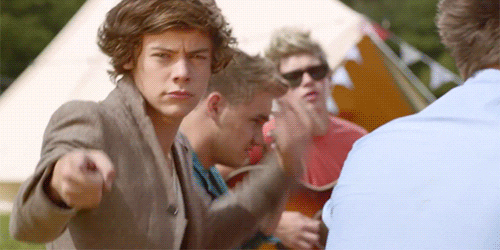 His bandmate, Liam Payne, burst out into applause over Harry's answer. Yes, seriously.
To watch the whole thing go down, just watch the video above!
VIDEO: Why Taylor Swift and Selena Gomez Are The Ultimate BFFs!
The majority of Taylor's new songs are obviously about her relationship with Styles -- she even named a track on the album, "Style." Not to mention, the hidden messages in 1989's liner notes clearly tell the story of a rollercoaster romance Taylor experienced.
The 24-year-old released the video for her new single, "Blank Space," early Monday morning after Yahoo accidentally leaked it prematurely. In it, she plays right into the constant scrutiny that she's too crazy to keep a boyfriend and, we gotta say, she goes insane so perfectly!
One Direction is gearing up to release their new album, Four, on Nov. 17. We're just hoping at least one song gives us Harry's side of the "Haylor" relationship!

VIDEO: Taylor Swift's Hidden Messages in 1989 Decoded: What She's Saying to Harry Styles and Katy Perry!
What do you think of Harry's response to Taylor's songs?! Do you think he really feels lucky? Let @Katie_Krause know on Twitter -- and include that #ETnow hashtag!