News
'The Flash' Romance Rundown: Should Barry Be With Iris, Caitlin or Patty? Grant Gustin & the Ladies Weigh In!
By
The CW
Romance is flourishing on The Flash!
There are plenty of reasons to fall in love with Barry Allen. He's brilliant, handsome, funny, and -- oh yeah -- a freakin' superhero! So it's no wonder why the girls of Central City are lining up to date the undercover speedster, one question remains: Who will end up with the fastest man alive?
To find out the answer to this fandom-dividing question, ETonline recently caught up with Grant Gustin, Candice Patton and Danielle Panabaker on The Flash's Vancouver set, and we've got the official romance rundown for all of Barry's love interests.

MORE: 'The Flash' Cast Dishes on Harrison Wells' Return: 'He's a Dick'

Barry and Patty -- aka Official Shipper Name TBD:
The latest love interest to speed into Barry's life is the adorably quirky Patty Spivot, a clever cop who is hell-bent on ridding Central City of corrupt metahumans.
"That's been really fun," Gustin said of his scenes with Shantel VanSanten. "It's happening pretty quickly and it's lasting longer than two episodes unlike Linda [Park] last year, so it's been fun. I love working with Shantel."
He and Patty share the same interests, have the same sense of humor and -- despite last week's run-in with King Shark on last week's episode -- it looks like they're on the fast track to a relationship.
"They just get along really well and it's kind of effortless," Gustin continued. "They are interested in a lot of the same stuff, and it's just an escape for Barry right now because everything else just is heavy in his life other than his relationship with Patty. It's been fun for consecutive episodes and I think everyone will enjoy seeing Barry be happy with at least one aspect of his life."
Even Iris is all for Barry's newest leading lady. "I think that when Iris sees that Barry has an interest in a woman -- and a really great woman at that -- she's quite supportive and quite happy for the both of them," Patton shared.
In fact, just like Linda, Iris and Patty will eventually become friends. "It's more of a friendship where they ask each other for advice, which I think is really nice," she explained. "It's going to be nice to see two women share a common love for a man -- in a different way at this point -- but to have a bonding experience over that."

WATCH: 'The Flash' Stars on Firestorm 2.0 and Possible Ronnie Raymond Return

Barry and Caitlin -- aka SnowBarry:

When it comes to Caitlin Snow's love life, we know two things: She's attracted to really ridiculously handsome men who also happen to have superpowers -- luckily, Barry fits both of those requirements.
And now that she's had a stretch of time to grieve the loss of Ronnie Raymond for the second time (Poor girl can't catch a break!), it's time to figure out if she and Barry are a perfect fit.
Although we've been sensing some seriously flirtatious vibes between Caitlyn and Jay Garrick, Panabaker swears she didn't approach it that way. "It's funny," she said. "Maybe I need to rewatch episode two, but I don't think that she's consciously flirting with Jay."
"I think it's sort of a natural chemistry that they have," the actress continued, "They speak the same technology language and that sort of thing."
Subconscious flirtations with Jay aside, Panabaker left the door open for a romantic future between Caitlin and Barry. "I don't know," she mused. "As I've always said, I hope that we have many seasons to play out lots of relationships on this show, so we'll see."
When asked how Caitlin will be spending the holidays in Central City, Panabaker was cute and coy with her answer: "With some mistletoe," she teased. Hmmm… we have a feeling Caitlyn will definitely be kissing a speedster this Christmas -- the question is: Which one?

MORE: 'The Flash' Boss Spills on the Big West Family Secret and That Surprising Reunion

Barry and Iris -- aka WestAllen: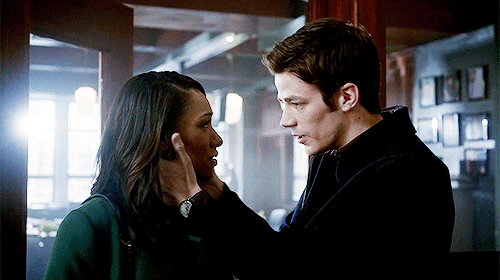 Fans officially freaked out last season when we were given a glimpse into The Flash's future and saw that Iris' surname on her byline read West-Allen, so is Iris ever going to react to this marital news?
"That's a good question!" Patton exclaimed. "We haven't really explored how Iris feels about that future. I think she knows that it's a possibility, you know Eddie told her that's what's on the paper, so I think in some way she'd deeply aware that that's a possibility."
"I think if it's true love, it'll find its way. That's what's so great about this show is we kind of have that hanging over our heads. That date, what is it... 2026? Hopefully we're still on the air and we can see that come to fruition," she said with a laugh.
Despite the fact that Barry is in the beginning stages of a romance with someone else, Patton believes that Iris and Barry are more of an endgame couple.
"I think that the love between her and Barry will never ever go away," she said. "It's just dependent on what that love will look like and when. So I think it's nice to know that at some point all of the sexual and romantic tension can kind of come to a head."
Let's just hope that Barry is not the fastest man alive in all aspects of his life…
The Flash airs Tuesdays at 8 p.m. ET/PT on The CW.

Who do you think Barry belongs with: Iris, Caitlin or Patty? Share your thoughts with @LeanneAguilera on Twitter!