TV
That's So 2004! What We Learned From The First Season of 'Laguna Beach' 10 Years Ago
By
ETONLINE
It's hard to believe that it's already been ten years since we first met Lauren Conrad, Kristin Cavallari, Stephen Colletti, and the rest of the Laguna Beach gang.
At the time, they were juniors and seniors in high school. Now, they're all late 20-somethings and living very different lives than their former reality star selves.
LC is married and worth an estimated $20 million, her arch-nemesis Kristin Cavallari is also married and has to kids with Chicago Bears quarterback Jay Cutler, LC's BFF Lo Bosworth now lives in New York as a successful blogger.
WATCH: The many life lessons Lauren Conrad taught us over the years.
The guys? Well, it doesn't seem like they've changed too much. LC and Kristin's former flame Stephen Colletti recently shared a snapshot on Instagram of the boys all back together!
So in honor of the ten year anniversary, we're sharing a few of our favorite lessons we learned that changed our lives while watching the show in 2004.

1. Even when you leave to start a new adventure in life, you always have a hometown to go back to.

NEWS: Lauren Conrad is a married woman!
2. Yelling about your car problems doesn't fix them ... weird.
3. Prom fashions may change, but your pics last forever. So make sure you look good in them.
4. Smiling really is the prettiest accessory.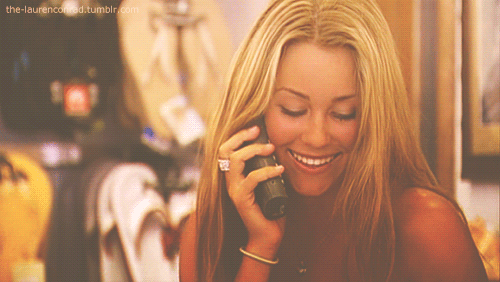 5. Guys that suck … BYEE!
NEWS: No one tells Lauren Conrad who to be.
6. It's better to arrive late, than to arrive ugly.
7. It's important to always let your friends know how much you love them.
8. Your parents are right, you shouldn't be failing.
9. Trying to fit a square into a circle was just ... your life.
Check out the video above to see the seven fashion moments from season one that just scream 2004!