TV
'Parks and Rec' Boss Explains Recurring Joe Biden Joke
By
ETONLINE

Parks and Recreation fans know that Leslie Knope has only one man she loves more than her husband Ben Wyatt… Joe Biden. Yes, Joe Biden.
The vice president turned 72 on Thursday, and while Leslie is likely showering him with gifts – ET got the backstory behind our favorite running TV gag.

WATCH: 'Parks and Rec' Star Chris Pratt Is GQ's Man of the Year


ET caught up with Parks and Rec co-creator Mike Schur who told us how our favorite quip came about.
"It was a very casual joke pitched in the writers room one day a long time ago," said Schur. "It just sort of took hold, and once you give a writers room a bone like that, they are just going to chew it forever."
After five seasons of persistent Biden references, the VP finally made a cameo on the series.
The lovebirds appeared together on the series premiere of Late Night With Seth Meyers in February, where Biden revealed that it was Amy Poehler who improved the end of their scene.
"She turned to the Secret Service Agent, who didn't know what the hell to do, grabbed him by the lapel and said 'You take care of him!' "
Biden is not the first politician to appear on the series. John McCain, Newt Gingrich, Barbara Boxer, Olympia Snowe and even First Lady Michelle Obama have all made cameos on the show.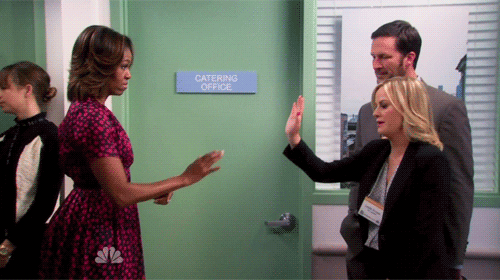 This leaves us with the burning question, will President Barack Obama show up in the final season? Schur tells us, it probably won't happen.
"He's a little busy these days running the free world, so I don't think you're going to see the president on the show."
Bummer!

Parks and Recreation returns to NBC in 2015 for its final season.
Watch this video celebrating Leslie's undying love for Joe.
Follow Ashley on Twitter: @AshCrosan