TV
EXCLUSIVE 'Girl Meets World': Shawn Hunter Will Reunite With Angela & His Dad in Season 2!
By
ABC
Listen up, Boy Meets World fans — your (second) favorite couple is reuniting!
Shawn Hunter (Rider Strong) is in for a treat because Trina McGee, who played Angela Moore for three seasons on the original TGIF hit, is headed to Girl Meets World in the series' second season.
Not only will Shawn reconnect with his lost love, a dearly departed member of the Hunter family will also return. McGee will be joined by Blake Clark — who played Shawn's dead-beat, but beloved father, Chet Hunter — and the two will make their Disney Channel debut with Shawn and the new Matthews family next season, ETonline can exclusively confirm.
Keeping with the theme of the BMW family, William Russ — aka Cory's father Allen Matthews — will be directing the upcoming episode.
Be honest, who else is doing the Cory and Shawn happy dance right now?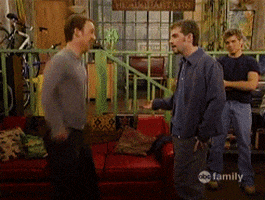 NEWS: Shawn Hunter Will Make His 'Girl Meets World' Debut!
Boy Meets World fans will remember that Shawn always seemed to get the short end of the stick in life, and this is something that creator and Girl Meets World executive producer Michael Jacobs is excited to explore in the continuation.
"We know that [Shawn's] relationship with Angela Moore was a very important relationship to the audience, but we also know something more which is that with Shawn, nothing good ever really happened to him," Jacobs explained to ETonline.
In BMW, Shawn and Angela dated off-an-on throughout high school and college before Angela decided to move to Europe to spend time with her father. It was implied that Shawn was going to ask Angela to marry him, but he couldn't bring himself to stand in the way of their father/daughter relationship.
"He lost his father, he lost his mother, he lost his girlfriend," Jacobs said. "She left him, and her rationale for leaving him was that she had a mother who had left her. That plagued so deeply in [Angela] that she never thought that she would be a good parent, a good wife, a good anything, but clearly she cared very deeply for Shawn."
The EP continued, "But then 14 years goes by and the writing staff had some very hard decisions to make, and one of those decisions is what is a two and a half year relationship in high school? How many Cory and Topanga's are out there?"
Looks like we'll have to wait a little bit longer to find out!
NEWS: 'Girl Meets World' Renewed for Season 2 by Disney Channel!
Meanwhile, Shawn's father, Chet, was mostly a ghost in his son's childhood. He often disappeared for months — even years! — on end, but despite his abandonment, his infidelities, and his drinking problems, Shawn loved his father.
In the middle of Season 6, Chet passed away from a heart attack, and fans cried alongside Shawn in the hospital.
Chet still made appearances in Boy Meets World through Shawn's memories, or as a subconscious life guide, and we're told that Clark will appear in the same capacity in Girl Meets World.
Girl Meets World airs Fridays at 8:30 p.m. on Disney Channel.
Are you excited to see the return of Angela and Chet? Do you think Angela and Shawn were soul mates? Shout out your thoughts to @LeanneAguilera using #ETNow!

Related Gallery