TV
EXCLUSIVE: 'Orphan Black' Clone Queen Tatiana Maslany Spills Season 4 Secrets on Sarah, Cosima, Helena and Ali
By
BBC America
Welcome back Clone Club!
After nine long, sestra-free months, we're about to be reunited with our favorite genetic identicals in the highly anticipated fourth season of Orphan Black on BBC America.
To help get you even more pumped for all the chaos and craziness headed our way, we called up our clone queen -- and TV's most talented actress! -- Tatiana Maslany, to get the exclusive scoop on everything that's next for our four core clones: Sarah, Helena, Alison and Cosima.

WATCH: 'Orphan Black' Season 4 Trailer Promises Even More Tatiana Maslany

Sarah: It doesn't take a psychic to know that Sarah's sweet family getaway in Iceland is going to be very short-lived. (Come on, this is Orphan Black, people!) But the question is: What forces her to leave her freezing hideout? "She is having to retread the steps of where all this started," Maslany answered. "She has got to go back to the beginning of things and try to answer a lot of questions that we posed all the way back in the first season."
Maslany revealed that Sarah's "tiny moment of peace" will be the last one our badass Brit will have for a quite a while as this season immediately launches her into clone chaos. "She's sort of the leader of this group and the one who kind of bravely goes into the places that none of them are willing to go," the actress explained. "She is a really courageous and kind of restless person, so that thing in Iceland and being happy would just never be enough for her."

MORE: Tatiana Maslany and Boyfriend Tom Cullen on 'Joyful' Experience Working Together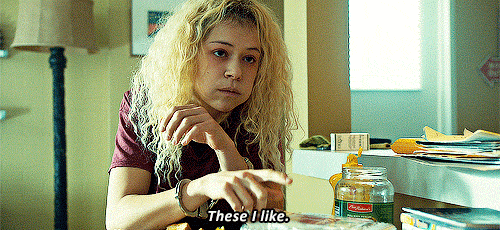 Helena: We don't know about you, but we've been waiting on pins and scorpions to be reunited with our favorite donut-loving sestra -- and apparently we're not the only ones! "Sarah and Helena are sort of apart for a lot of this year," Maslany revealed. "When we first get to them they're kind of lifetimes apart, but they will definitely come back together because they have that kind of twin connection."
"I think Sarah is so happy for Helena and also so terrified for when she's going to give birth and what that's going to be like," Maslany continued, also adding that that we'll be getting even more of those dynamic Donnie and Helena scenes. "It's always really interesting to me because it's just such an unlikely duo, and yet they really kind of get each other and I really like that relationship."

WATCH: 'Orphan Black' Season 3 Bloopers Give a Hilarious Look Behind the Scenes

Alison: Once again, our favorite suburbanite clone will be cooking up some serious trouble in season four, but this time we're adding a healthy heaping of sisterly tension to the mix. "I think the fact that Helena is pregnant and that it's sort of easy for her is extremely frustrating to Alison," Maslany shared. "Alison is sort of juggling everything under the sun and not doing so well with it and kind of at a loss. Helena kind of gets to sit around all day and eat donuts and be waiting on and have this wonderful miracle in her life. I think out of all the clones, Alison is really jealous of that."
Additionally, fans should expect some bumps ahead for Alison and Donnie's twerk-tastic relationship. "They've been tested over the past four seasons in a big way. Going through stuff together that you would think would destroy their relationship, has only brought them closer. So, I think they're a pretty unique couple and they're pretty strong, but they definitely do get tested again this season."

WATCH: 'Orphan Black's Maria Doyle Kennedy Shows Off Mrs. S' Incredible Voice!

Cosima: We viciously screamed at our TV screens when Delphine was shot (and most likely killed) in OB's season three finale. But if you're expecting to see the same response from Cosima, then you're going to be very disappointed. "I think she's in major denial when we see her at the beginning," Maslany admitted. "I think Cosima has always had a lightness to her and, over the past three seasons, we've really like shattered that sort of joy that she had because of her illness and because of Delphine."
Maslany revealed that grief is a strong emotion for Cosima and she'll be "dealing with it constantly" in the first part of the season. "I think whatever we see as happiness in these first three episodes is a lie for sure. She's covering up a lot of grief," she said. On the bright side, be prepared to see even more adorable friendship scenes between Cosima and Scott – aka our favorite geek-chic duo on TV.
Season four of Orphan Black premieres tonight at 10 p.m. ET/PT on BBC America.

Dying for more clone-tastic scoop? Check back to ETonline right after tonight's premiere to get the exclusive scoop on the return of one of your favorite clones and everything you need to know about our new mystery sestra!