TV
EXCLUSIVE: The 'Pretty Little Liars' Plan Their Ultimate Dream Weddings for Ezria, Haleb, Spoby and More!
By
EXCLUSIVE: The Stars of 'Pretty Little Liars' Plan Their Charact…
Megan Fox and Machine Gun Kelly on 'Secret, Special Meaning' Beh…
Ashley and Wynonna Judd Offer Emotional Tributes to Mom Naomi Du…
'Bling Empire' Cast Reacts to Chèrie and Jessey Quitting Show in…
'Little People, Big World': Zach Feels 'Offended' When Dad Won't…
Watch Amber Heard's Cross Examination by Johnny Depp's Attorney
Johnny Depp Trial: Amber Heard's Sister and Ellen Barkin Will Te…
Travis Scott and Kylie Jenner Make Billboard Music Awards Family…
Kim Kardashian Makes Sports Illustrated Debut in String Bikini
Benjamin Keough, Son of Lisa Marie Presley and Grandson of Elvis…
Watch Johnny Depp's Testimony Claiming He Was Dropped From 'Pira…
Kourtney Kardashian and Travis Barker Are Married! Couple Makes …
Heidi Klum Says She Wants Daughter Leni to Make Her Own Mistakes…
Go Inside Kourtney Kardashian and Travis Barker's Vegas Wedding!
Wynonna Judd Tearfully Announces She'll Continue Planned Tour Af…
Kim Kardashian on Her 'Proud' Curves and Overcoming Scandal (Fla…
'Magnum P.I.', 'Dynasty' and More Shows Canceled: What's Not Com…
It's time for a pretty little engagement!
A #PLLProposal is headed our way in next Tuesday's all-new episode of Pretty Little Liars, and we're beyond excited for what promises to be a "very romantic" moment between two "soul mates."

"I can't tell you who it is, when it is or where it is," Lucy Hale teased exclusively to ET when we visited the PLL set in June. "Basically it's someone somewhere is getting married."
To help hold you over until we discover who pops the question, we asked PLL's leading ladies -- Ashley Benson, Troian Bellisario, Shay Mitchell and Hale -- to plan their ultimate dream wedding for Hanna, Spencer, Emily and Aria and the loves of their lives!

EXCLUSIVE: 'PLL' Scoop: An Ezria Wedding? Haleb's 'Unfinished Business' & More!


Lucy Plans Aria's Dream Wedding: "Don't get me wrong, [Aria] is very loud with her clothes and with her life, but I feel like deep down her morals and what she wants out of life [is] very simple, and Ezra is very simple. I feel like it would be small. I feel like it would be intimate. I'm feeling, like, barnyard wedding vibes… kind of rustic… very romantic, intimate, simple, lovely."

Troian Plans Spencer's Dream Wedding: "I think if Troian were to plan Spencer and Caleb's dream wedding it would definitely be a very, very small ceremony. I think it would be an elopement. I think they would go back to Barcelona and they would get married maybe in like one of the museums because neither one of them is really religious. Or, if it was in a church, probably like Gaudi's church [the Sagrada Familia in Barcelona.] Then the girls could come over and then they could kind of have like a whole group euro-train [adventure] and hit all of the big European cities!"

WATCH: 'PLL' Stars Say the 'Full Cast' Probably Won't Come Back After Season 7!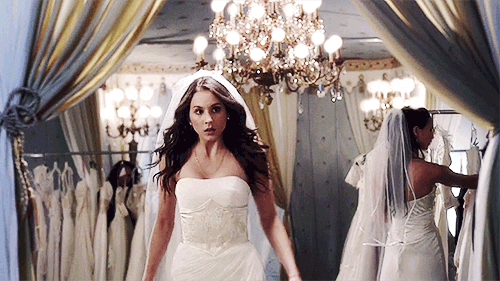 "If it were Spencer and Toby, I think that they would get married somewhere like Big Sur, [California] or in the Appalachian Mountains or probably like upstate New York. I think it would be a really, really small ceremony -- they might even elope as well. I think that, probably, how they would get there is they would be building a house together, like a cabin in the woods. Then, at the end of building the cabin, they would celebrate by opening it up to everybody that they love and having a wedding there and beginning their lives there… and playing scrabble endlessly. That's what they do on their wedding night. They just pay scrabble!"

Ashley Plans Hanna's Dream Wedding: "If it were Hanna's wedding -- hopefully to Caleb! -- I think it would be super cool, because she's in fashion, if they started their next chapter of their lives in New York. Going all out with something at The Met would be super cool or in Europe, but New York would be really cool. I think it'd have to be super, super big with a ton of people and like really fancy and just like the best wedding -- but that's just all in my head. If we were getting married, [the PLL production team] would be like, 'No, you're going to get married in The Brew. Sorry.' I always want to go on location so I'm like let's do New York!"

RELATED: 'PLL' Sneak Peek: Everyone Is Freaking Out After Elliot's Murder


Shay Plans Emily's Dream Wedding: "I honestly think it would probably be somewhere on a beach. I think she would go barefoot. I don't know what she would wear -- maybe like an all-white cool, three-piece suit? I don't know, but I think it would be somewhere on a beach and be very relaxed.

Pretty Little Liars airs Tuesdays at 8 p.m. ET/PT on Freeform.
Which little liar do you think will be walking down the aisle in season seven? Share your thoughts and predictions with ET's PLL expert @LeanneAguilera on Twitter!