TV
37 Things We Learned at The CW's Superhero-Packed PaleyFest Panel: There's Another Crossover Coming!
By
Getty Images
The CW has a DC superhero show for nearly every night of the week, and on Saturday afternoon, the stars and producers of Arrow, The Flash, Supergirl and DC's Legends of Tomorrow joined forces for the "Heroes and Aliens" PaleyFest panel at the Dolby Theatre in Hollywood.
Moderated by filmmaker and comic book fan Kevin Smith, the panel looked back at this season's four-show crossover event, forward to the upcoming Supergirl/Flash musical episode and beyond. In fact, as Flash producer Andrew Kreisberg teased, there's another crossover in the works!
"We're gonna try to do a real, four-way crossover," Kreisberg told the cheering PaleyFest crowd. Here's 36 more things we learned during the superpower packed panel:
WATCH: 'Arrow,' 'The Flash' & More Get LEGO Transformation in Honor of 'The LEGO Batman Movie'


ARROW


1. The show's 100th episode -- which took place during the four-episode Dominators crossover -- was a true tribute to the DC Comics roots. "It felt more like a milestone or anniversary issue of a comic book as opposed to a milestone episode of a television show." executive producer Marc Guggenheim recalled. "It was like, oh, we're celebrating the hundredth episode of Arrow by basically writing the 100th issue of Arrow."

2. While ambitious and unprecedented, this season's crossover was the easiest yet for Stephen Amell. Ever the fearless leader of the CW's gang of DC super friends, Amell said the four-show crossover was one of the franchise's smoothest so far, thanks to past experience, "jigsaw puzzle" scheduling and an old-school, color-coded calendar. "Ultimately, the opportunity to do something like that is why we do the shows. It's so the fans can have the four-night experience."

3. Even so, his idea for the next crossover was hilariously telling of the rigorous production schedule: "The Arrow side of it is just Oliver and Diggle having a cup of coffee and playing chess. At the end, the Legends and Supergirl and Flash show up and say 'We need your help,' and we're like, 'We're good.'"

4. Amell is rarely more than one salmon ladder rung from Oliver Queen. After conceding to a fan that he is "just naturally good at chin-ups," the actor channeled his best Green Arrow voice to tell her, "You have failed this city."

RELATED: 'Arrow' Star and EP Dish on the Shocking Prometheus Reveal and 'Psychological Torture' to Come for Oliver


5. The Arrow star was surprised by the "sense of accomplishment" he felt while filming the show's 100th episode. The episode, which fell right in the middle of the crossover, dropped Oliver into an alternate universe in which he never got on the Queen's Gambit, thus avoiding his tragic origin story. The hour paid tribute to the journey of both the character and the show over five seasons, and brought back memories and some familiar faces. "It was really easy to play the emotional moments of that episode," Amell admitted. "Because so many of them were true."

6. Amell also recognized the importance of the seasoned crew that helped reach that milestone. The actor recalled filming the 100th episode and thinking back on everyone who had worked on the show and its subsequent spin-offs, later noting that the Vancouver-based productions benefitted early on from inheriting a workforce fresh off another DC drama: Smallville.

7. And he's already looking forward. "I'm very, very proud in this day and age to make it to 100 episodes," Amell noted. "And, you know, I feel like the path to 200 will be even easier."
8. David Ramsey likes guesting on The Flash for more than one reason. "Every time I get to go on The Flash, I have so much fun," Ramsey told the crowd. "Everyone's smiling, everyone's happy… and by the way, they have cans of soda on their show. We don't!"
RELATED: 'Arrow' EPs Open Up About Tackling Gun Violence and Wild Dog's Origin Story in Issue-Driven Episode


9. However, he's still not over Barry Allen erasing his daughter. As Grant Gustin opened up about his character's struggle to deal with the consequences of the Flashpoint timeline, Ramsey made sure to remind him that one of those consequences was a wrinkle that replaced Diggle's little girl, Sara, with a son.

10. There may be a light at the end of the tunnel for Olicity fans. Amell answered a question from a young fan about Oliver and Felicity's (Emily Bett Rickards) currently-estranged relationship, teasing, "That's not really up to me, but I will say that they have some really, really cool stuff coming up."
EXCLUSIVE: 'Arrow' Stars Weigh in on Oliver Queen's Ever-Changing Hairstyles Just in Time for the 100th Episode!


THE FLASH


11. Grant Gustin gets it. The actor admitted that he agrees with the backlash against his character's decisions this season "most of the time," but also tries to cut him some slack. "This year we just see his fear dictate things more than ever," Gustin explained of Barry's difficult storyline. "How could it not, with what's looming."

12. This season's dark turn was a natural one. "The first seasons of The Flash were sort of about reveling in having these powers," Kreisberg told the crowd. "This season is really about the pitfalls of having them."

13. And things are about to get even harder. Kreisberg also teased the episode 18 introduction of Abra Kadabra, a "villain from the future." "He knows who Savitar is," the producer revealed. "It becomes a moral conundrum for Barry and the team, to let Abra Kadabra go in order to get Savitar's identity… Iris and Barry have a great scene about, you know, can you be a hero if you do one bad thing for the better good? That's a really exciting episode."

14. Episode 19 is called "The Once and Future Flash." Kreisberg teased: "Barry decides that the only way he can find out what he needs to know is in the future."
EXCLUSIVE: How 'The Flash' Director Kevin Smith Brought Killer Frost's 'Iconic' Cold Kiss from Script to Screen!


15. The Flash/Supergirl musical crossover was sort of inspired by Joss Whedon. Kreisberg got an applause break at the mention of the upcoming "gimmick episode" -- meant in the most flattering way possible -- saying Whedon "did those kind of episodes the best." (Buffy the Vampire Slayer featured a musical event of its own, as well as a famously silent season four episode, "Hush.")

16. One of those Whedon influences was the motivation to forward the characters' season-long plots within the fun escapism of the musical. "We kind of set it up so that, on both Supergirl and The Flash, Barry and Kara were both at a romantic crossroads," Kreisberg explained. "So when you go into the musical episode, they're sort of both in the same place, and they can go on this journey together to either get back the love that they think they've lost or not."

17. #WestAllen forever.After Kreisberg's comments, Smith, an admitted "WestAllen shipper," warned him that "it better be the former." The producer assured him: "Don't worry."

18. Candice Patton isn't bummed that she doesn't have powers. "While I would love to strap some leather on for an episode," Patton said with a laugh, "I love that [Iris] provides this human quality on a very superhuman show… I think she's extraordinarily important to Barry's superhero narrative."
EXCLUSIVE: 'The Flash's Grant Gustin Spills on Barry and Iris' Big Romantic Milestone: 'It's Really Sweet!'


19. This year's big bad still has some tricks up his sleeve. Kreisberg admitted that it was tough to develop their season three big bad, Savitar, because of the success and popularity of past villains Reverse Flash and Zoom. But he assured that the creative team "have been planning [the Savitar arc] for a while." "We're really excited for people to see the last seven episodes."

20. And they're taking things in a new direction in season four. "Next season, we're not going to have a speedster," Kreisberg revealed.

21. Gustin already has crossover plans. As for the newly-announced four-show event, the actor said he's hoping for a reunion between Barry and fellow scientist Ray Palmer. "I always say I want to work with Brandon [Routh] more," Gustin told the fans.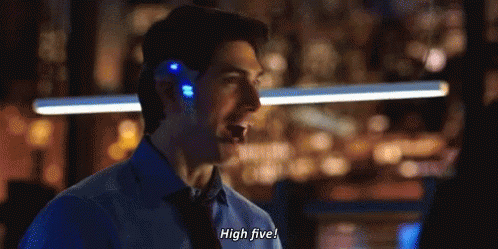 EXCLUSIVE: 'The Flash' Stars Spill on Caitlin's Killer Frost Future and Iris' 'Iconic' Relationship With Barry!


SUPERGIRL


22. Melissa Benoist learned a lot about being a superhero from Lynda Carter. The Wonder Woman star recurs on Supergirl's second season as President Olivia Marsdin, and Benoist said the iconic actress had some "really great insights" on her dual role as onscreen hero and real-life inspiration to young female fans. "She is Wonder Woman."

23. And the actress is ready to embrace the responsibility. "I think I was overwhelmed by that in my first season," Benoist admitted. "With what's happening the world… what we do and what we stand for, playing superheroes with superpowers -- especially Supergirl, whose motto is "Hope, Help and Compassion" -- I think that's a really important message to spread."

24. Not to mention, Benoist had the best sign at the Women's March in January. Smith pointed this out, and he wasn't wrong:
EXCLUSIVE: 'Supergirl' Melissa Benoist and Chris Wood Dish on Karamel's 'Sweet' Relationship!


25. In fact, the show takes pride in exploring and confronting issues like immigration, journalism and LGBT rights. "It's kind of baked into the DNA of the show, in terms of [tackling] what does it mean to be a woman in the world? What does it mean to be a young woman and how do you find your power?" Kreisberg explained, noting that he was certain that the Supergirl cast and crew could handle taking on such divisive subjects. "It's already sort of built-in that this show could take on issues."

26. #Sanvers is something special. Kreisberg noted that the massively positive fan response to Kara's sister, Alex (Chyler Leigh), coming out this season and falling in love with National City Police Detective Maggie Sawyer (Floriana Lima) was not their initial goal, but added that the kind words and personal stories from fans on social media and in real life are an added bonus. "We're up here to entertain people, but if in some small measure, we did some good and made somebody feel less alone in the world for 42 minutes, that's really special."
RELATED: 'Hercules' Is Coming to 'Supergirl'! Kevin Sorbo Will Wreak Havoc in Season 2


27. Also special? Benoist's totally super metabolism, apparently. "She eats like a horse, it's f**ked up," Smith, who directed two episodes of Supergirl this season, teased in the middle of a glowing monologue about the actress' on-set work ethic and onscreen performances. "She's like, cramming donuts right before she has to look heroic."

28. And David Harewood does cartwheels on set. This factoid about the Martian Manhunter was also shared by Smith, so who knows if it's true. We're having a hard time picturing it.
RELATED: 'Supergirl' Welcomes Teri Hatcher as New Villain of Season 2 -- Get the Scoop on Her 'Mysterious' Role!

DC's LEGENDS OF TOMORROW


29. The youngest DC show is something of a red-headed stepchild. "Flash is a family drama, and Arrow is kind of a crime drama, and Legends is insanity," Kreisberg listed with a laugh, though Legends executive producer Phil Klemmer insisted, "We never set out to blow anyone's mind."

30. However, that means they get away with a little more. Klemmer compared the time-hopping Legends to a jam band. "We start out, somebody's got a little riff -- 17 episodes later, you're like, 'How did we get here?'"

31. The stellar cast is the "heart" that keeps the show tethered. "Obviously it's a crazy premise," Klemmer said of a show that visited Al Capone, George Washington and George Lucas in their respective primes over a three-episode span this season. "We have to have stories that are on that scale of absurdity. The one thing that grounds it is our cast -- compelling characters and these tremendous performances -- otherwise it would just float off into outer space." (Note: the Legends went to space with the Apollo 13 team in last week's episode.)
RELATED: 'DC's Legends of Tomorrow' Introduces New Team Lineup

32. In season two, they learned to focus on individual characters in order to strengthen the group. "In season one, we tried to be democratic and [give our actors and characters] equal parts of the pie," Klemmer explained. "Then we sort of realized, we're gonna get another season, you can actually let somebody come forward and focus on one character or one dynamic or one theme… It's kind of a new show every week."

33. Caity Lotz is staying on her toes. After joining Arrow as Sara Lance for a three-episode arc in 2013, Lotz was subsequently killed off (twice if you count flashbacks), brought back to life, resurrected as the White Canary, moved to Legends and now captains the Waverider. "It's all been very interesting, because I never know what's coming," Lotz said, admitting that she didn't predict Sara's recent promotion. "It's been really fun. I think she kind of is like, a lone wolf. So she needs to be doing her own solo thing or leading [the team]."

34. Brandon Routh is learning more about "everyman" Ray Palmer. "I think part of Ray's arc from Arrow to Legends is letting go of the fame, the money, the leadership," Routh told the crowd. "I think his journey is, 'I want to be remembered, but does it matter?... What am I without my suit?'"

35. But the high-tech Atom suit isn't all fun and games. "For the first hour, it's fine," Routh admitted with a laugh, noting that a typical shoot can run as long as 14 hours. "It's a challenge not only for my sanity and my need to use the restroom, but also for my back and my spine."

36. There are plenty more stories to tell. While the Legends have traversed many miles and centuries in just two seasons, Klemmer admitted, "We can look at 3x5 cards we put up in season one, and we haven't even gotten to 90% of them."
Watch The CW's DC superhero lineup at 8 p.m. ET/PT on the following nights: Supergirl on Mondays, The Flash on Tuesdays, Arrow on Wednesdays, and Legends of Tommorow on Thursdays.
See more on The Flash and Supergirl's musical crossover in the video below.
​​EXCLUSIVE: 'The Flash' & 'Supergirl' Musical Crossover: Behind-the-Scenes of Kara & Barry's Tap Dancing Duet!