TV
10 Reasons Why Bughead Is Totally 'Shipworthy'
By
The CW
Welcome to Shipworthy, TV lovers!
Each week, ET's resident small screen romance expert, Leanne Aguilera, will be traversing the high seas and investigating one of TV's most swoonworthy ships. Sail along to relive the sweetest moments, hottest makeouts and more -- and then head over to Twitter to let us know what you loved and which ships you'd love to see more of!
This week's ship: Bughead, aka Riverdale's very own Betty Cooper (Lili Reinhart) and Jughead Jones (Cole Sprouse). Whether they're sleuthing out their twisted town's latest mystery or standing by each other's side despite tumultuous ups and downs, fans fell for the cute couple almost as quickly as they fell for each other. Here's a look back at a few of our very favorite moments between the good girl with a dark side and the "loner outsider from the wrong side of the tracks."
1. Anchors Aweigh
Though Betty had eyes for boy-next-door Archie Andrews (KJ Apa) in Riverdale's first few episodes, her attention quickly turned to Archie's broody best friend. And it wasn't long before the pair was super smitten with each other.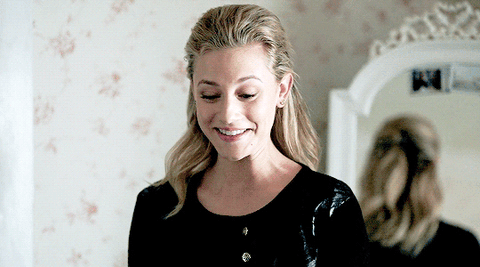 2. First Kiss
Bughead's unforgettable first kiss scene had us swooning from the moment Jughead climbed the ladder to Betty's window, quipping, "Hey there, Juliet." But it was the sweet and spontaneous smooch that sealed the deal -- and started our shipper hearts fluttering.
3. P.D.B. - Public Displays of Bughead
The cute couple didn't take long to go unofficially official, sharing a moment in front of their friends -- shortly after their first kiss -- that was impossible to ignore.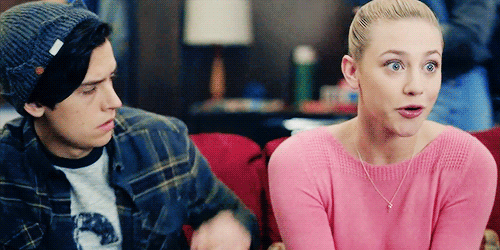 4. Throwing Punches
Betty's attempt to throw a birthday party for Jughead was well-meaning, if a little misguided, but when the out-of-hand gathering devolved into a game of "Secrets and Sins," Jughead stepped up to defend his girl when Chuck told the whole party about Betty's manic hot tub meltdown.
5. Comfort at the Chock'lit Shoppe
Following the disastrous celebration-turned-brawl, the pair reconciled at Pop's and had an intimate talk about their inner demons and darkest fears. When Betty told Jughead that there was something "deeply wrong" with her, showing him the bloody fingernail marks on her palms, his heartfelt reaction brought tears to our eyes.
6. Three Little Words
Amid the drama of Riverdale's season one finale came a swoonworthy scene, when Bughead finally confessed their love to each other, uttering those three little words. And we're sure no shipper was complaining when the sweet moment turned into a steamy makeout sesh!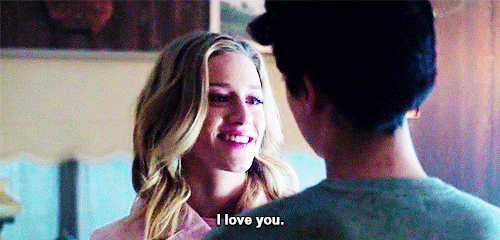 7. Ups and Downs
Season two saw the couple on a rocky road, breaking up and then getting back together again, thanks to the threats of the Black Hood and Jughead's tumultuous induction into the world of the Southside Serpents. However, they always found their way back to each other.
8. Heating Up
Following Jughead's return to Riverdale High, the couple ultimately reconciled in a big way, going the distance in FP's trailer after Jughead apologized for pushing Betty away during his struggles with the Serpents.
"I can handle it," Betty assured him.
"I know you can," Jughead answered, before asking her to spend the night. Swoon!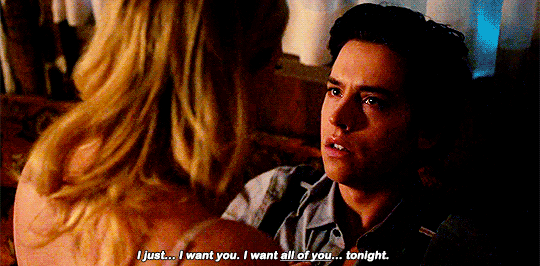 9. Going Dark
But that wasn't the only steamy moment in season two! "Dark Betty" made a reappearance when the pair joined Archie and Veronica for a weekend at the "Lodge Lodge" lake house.
"I packed this in case you needed a distraction from your sleuthing," Betty explained, revealing her sultry lingerie and black bob wig. Needless to say, it worked.
10. A Royal Romance
After Riverdale's tumultuous penultimate season two episode, in which Jughead's life hung in the balance, the couple were back together for the finale, sharing a sweet scene in which Jughead asked Betty to be his "serpent queen." We can't wait to see what season three holds for this perfect pair!
See more on Bughead in the video below, and hit us up on Twitter for more swoon-inducing Shipworthy content -- and to tell us about your favorite pairs! Happy shipping!
RELATED CONTENT:
RELATED: 'Riverdale': The Black Hood Speaks Out! [SPOILER] Addresses That Confusing & Complicated Backstory!
WATCH: 'Riverdale' Star Skeet Ulrich Reveals the Surprisingly Hilarious Story Behind That 'Traumatic' Cliffhanger!
EXCLUSIVE: 'Riverdale's Lili Reinhart Feels 'Amazing' Making Red Carpet Debut with Cole Sprouse at Met Gala
Related Gallery