TV
10 Reasons Why Westallen Is Totally 'Shipworthy'
By
The CW
Welcome to Shipworthy, TV lovers!
Each week, ET's resident small screen romance expert, Leanne Aguilera, will be traversing the high seas and investigating one of TV's most swoonworthy ships. Sail along to relive the sweetest moments, hottest makeouts and more -- and then head over to Twitter to let us know what you loved and which ships you'd love to see more of!
This week's ship: Westallen, aka The Flash's dynamic duo of Barry Allen (Grant Gustin) and Iris West (Candice Patton). This comic canon pairing has had a little bit of everything over the show's first four seasons -- from puppy love to first kiss fake-outs, all the way to an epic, musical proposal and double wedding -- and we're certain they're only going to get stronger as they continue protecting Central City and each other.
"Obviously, it's an iconic couple, but I feel like, kind of from the very beginning, she's her own version of Iris and I'm my own version of Barry," Gustin told ET's Leanne Aguilera when he and Patton sat down to talk all things Westallen during San Diego Comic-Con earlier this summer. "As a couple, it's a very different version of Iris and Barry from the comic. I think the trajectory of the relationship was different and so.. it's been great from the beginning."
Here's a look back at a few more of the reasons Westallen makes such a "Shipworthy" pair:
1. They've been there for each other from the very beginning.
Barry's origin story may have started with tragedy -- when his mother was killed by the Reverse Flash, and his father was framed for the murder and sent to prison -- but when Joe West took in the young hero-to-be, he found a second family, and a life-long friend in Iris.
"They're so steadfast," Patton said of what she thinks makes Westallen such a solid pair. "[They've been together] since childhood, and I think there's something really endearing about that. Everyone wants that, everyone wants a relationship [with] someone that you can count on and trust and to tell you the truth and I feel like Barry and Iris have that. They're kind of just like an ideal couple."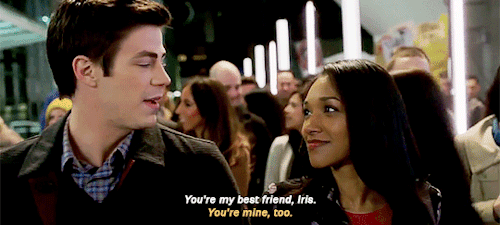 2. They're always by each other's sides.
Even when they were in other relationships, Barry and Iris' connection was undeniable. They're so meant to be, they were even married on Earth-2 long before the Earth-1 pair got their act together!
3. Thanks to some fancy timeline manipulation, they've had anywhere from four to six first kisses...
4. ... and a few different weddings, too!
Seriously, these two LOVE a do-over. And we're not mad about it!
5. They're even solid enough not to be salty when another DC couple steals their nuptial thunder... well, sort of.
"I know it bothered a lot of people that they didn't get their official Barry and Iris wedding," said Patton of the possibility of revisiting Westallen's official nuptials, which became a joint wedding with Arrow's Oliver and Felicity at the conclusion of last season's epic, four-show crossover event. "So yeah, that would be really nice, actually."
6. Still, the chemistry has always been electric.
"I find working with Grant very easy," Patton marveled. "The work when we're together, especially scenes alone, just comes very naturally and has a fluidity to it. So I don't know it's probably one of the bigger joys for me working on this show is doing those scenes."
7. They're always stronger together....
The pair switched heroic roles in the season four episode "Run, Iris, Run," but still made an unstoppable team.
8. ... and they always take time for each other.
Even when things get hectic -- and trust, they certainly do for the Fastest Man Alive -- Barry and Iris always take a moment to check in with each other.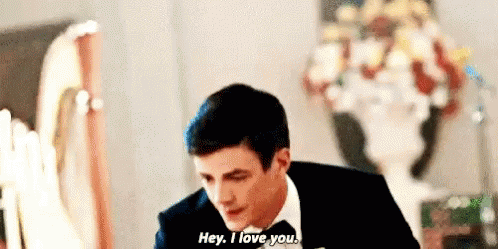 9. They're already a big happy family -- in the future!
The reveal of Nora West-Allen -- Barry and Iris's speedster daughter from the future -- at the end of season 4 will certainly mean some drama ahead for the couple, but we have no doubt that they'll get through it together.
10. Plus, they've got great taste!
When asked to name their favorite thing about the couple, Gustin and Patton demurred. "It's like [being asked] what's your favorite color?" Gustin joked. However, they both agreed that Barry and Iris have a killer loft!
See more on Westallen and the upcoming season of The Flash in the video below, and hit us up on Twitter for more swoon-inducing Shipworthy content -- and to tell us about your favorite pairs! Happy shipping!
RELATED CONTENT:
'Boy Meets World's Ben Savage on Why Cory and Topanga Were Totally 'Shipworthy' (Exclusive)
10 Reasons Why Choni Is Totally 'Shipworthy'
10 Reasons Why Olicity Is Totally 'Shipworthy'
Related Gallery