TV
15 Female TV Characters We Were Obsessed With in 2017!
By
HBO, The CW, Starz, Hulu, NBC, FOX
Many of Hollywood's leading men may have let us down this year, but at least the ladies of TV raised our spirits!
From a time-traveling feminist who isn't afraid to challenge social norms to a revolutionary handmaid with an unbreakable will to a policewoman whose bravery transcends beyond the line of duty, these on-screen gems were the bright spots of our year.
Without further ado, and in no particular order (seriously, we love all of these women equally!), here are the 15 TV females we were absolutely obsessed with in 2017...
1. Madeline Martha Mackenzie, Big Little Lies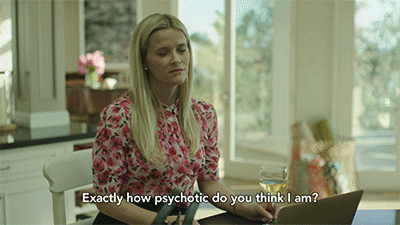 Why We're Obsessed: Nicole Kidman might be taking home all the awards, but the heart and snarky soul of Big Little Lies is in Reese Witherspoon's barely-restrained performance as Type-A queen bee Madeline Martha Mackenzie. Whether she's taking the new mom in town under her wing, destroying a child's birthday party, or conveying the season's biggest reveal with nothing more than a pointed look, Witherspoon perfectly embodied the Otter Bay mama bear, revealing the cracks in her meticulously-varnished veneer so naturally that we were more than happy to go on the journey from "I hate her" to "I know her" to "I love her!"
2. Offred, The Handmaid's Tale
Why We're Obsessed: Blessed be the fruit that is Elisabeth Moss! We are living for her portrayal as the subtly sassy, not-so-subtly badass Offred in The Handmaid's Tale, just as she's living to take down the evil that is Gilead. From flirting with the Commander to sleeping with the probable enemy (what's your deal, Nick?), Offred's willing to do whatever it takes to reconnect with her daughter, proving there's always hope, no matter how dystopian the circumstance. Praise be!
3. Claire Fraser, Outlander
Why We're Obsessed: Jesus H. Roosevelt Christ! Caitriona Balfe's performance on Outlander is so brilliantly multi-faceted that Claire shined like a diamond in each and every season three scene. Whether she's taking a stand against misogynistic bar patrons, breaking through the glass ceiling in the medical field, or reinforcing the fact that she is her husband's equal, Claire Fraser is the ultimate feminist role model -- no matter which century she's living in.
4. Rosa Diaz, Brooklyn Nine-Nine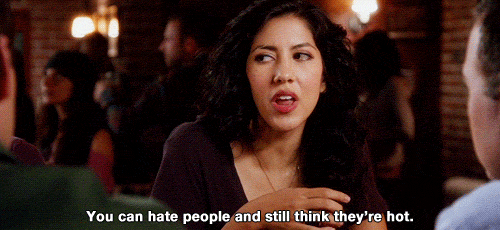 Why We're Obsessed: Stephanie Beatriz's portrayal of the 99th precinct's monotone, tough-as-nails cop has always been a fan favorite, and never more so than in the show's truly stellar fifth season. While almost nothing can break through Rosa's leather-jacketed exterior, she showed a rare moment of vulnerability when coming out as bisexual to her work family and stood firm on who she was when her parents weren't terribly supportive. It was a meaningful and important storyline on one of the most heartfelt, hilarious comedies on TV, and Beatriz toed the line to poignant perfection, bringing all the heart and none of the schmaltz.
5. Cheryl Blossom, Riverdale
Why We're Obsessed: Listen up, fives -- a ten is speaking! Madelaine Petsch's sharp-tongued portrayal of Cheryl Blossom on Riverdale has been one of this year's biggest small screen revelations. At first, Cheryl seemed cold as ice, but we quickly warmed up to her deliciously vicious ways. Each week, we marvel at Petsch's subtly sweet moments of emotion that are hidden behind her fiery exterior. Cheryl may be in the mood for chaos, but we're always in the mood for more of her savage verbal bombshells.
6. Debbie Egan, Glow
Why We're Obsessed: Glow is a show about ladies wrestling, but at its heart, it's really about the shattered friendship between Alison Brie's Ruth Wilder and Betty Gilpin's Debbie Egan. Gilpin flawlessly imbues Debbie with the muted frustration of a budding actress-turned-discontented housewife, and viewers find themselves waiting with baited breath for it to ferment into the kind of righteous rage that will make her a force in the ring. The moment in which she realizes that pro wrestling follows the same types of narratives as the soap operas she used to star in is award-worthy, and when she took the stage as Liberty Belle for the first time, we were cheering with patriotic pride.
7. Midge Maisel, The Marvelous Mrs. Maisel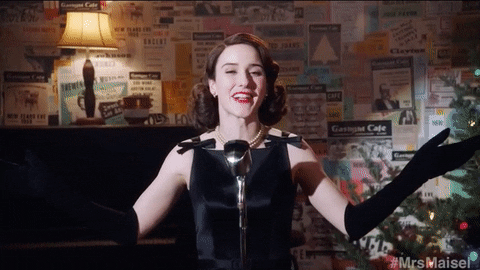 Why We're Obsessed: Marvelous doesn't even begin to describe how we feel about Rachel Brosnahan's on-screen performance as Midge Maisel in Amazon's newest Transparent-eclipsing dramedy. In fact, we think she's the small screen's biggest breakout star of the year! Midge's hilarious presence on stage -- not to mention her envy-inducing wardrobe -- makes us wish we could travel back in time and join her for a drink (or six!) after her show and then drunkenly eat an entire pan of mac and cheese. Don't worry, we'll work off the carbs in aerobics class.
8. Janet, The Good Place
Why We're Obsessed: Whether it's regular Janet, Bad Janet or Jeanette, we're here for all of it. The hilarious D'Arcy Carden has infused her Good Place A.I. concierge with more heart than most human sitcom characters, and she can bring the jokes as well as the unexpectedly poignant moments (see: the recent "Janet and Michael" origin episode, in which viewers discover how Janet ended up in the Bad Place). And if you ask her nicely, she'll also bring you jalapeño poppers.
9. Beth Pearson, This Is Us
Why We're Obsessed: Susan Kelechi Watson knocked our socks off with her perfect portrayal as Randall's fierce, intelligent, self-assured and stunning wife, Beth, and she's very clearly been This Is Us' secret weapon. While it's easy for a supporting character like Beth to be relegated to the sidelines in support of Randall's journey, Watson proves that doesn't have to be the case. The best example of Beth being the yin to Randall's yang? The reassuring speech she gives to her husband after he folds under pressure with the idea of adopting a child from a broken home: "You and me, we can do anything." We're hoping this is just the start of The Beth Pearson Experience on This Is Us.
10-12. Jane, Kat and Sutton, The Bold Type
Why We're Obsessed: Step aside, Little Liars -- it's time for a new girl group to rule over Freeform! We couldn't choose between Jane, Kat and Sutton, so all three of The Bold Type's ladies are making it onto this list in one epic tie. Why? For starters, these kickass females are unapologetically ambitious in their careers and wildly relatable in their pursuits for love, plus serious #bestfriendshipgoals when it comes to bathtubs. The on-screen chemistry between Katie Stevens, Aisha Dee and Meghann Fahy is undeniably electric. In fact, we haven't met a group of girls that were this fun, chic, or laugh-out-loud awesome since the Sex and the City gang took us shoe shopping.
13. Molly Carter, Insecure
Why We're Obsessed: The world of Insecure may revolve around Issa, but her BFF Molly, played by the outstanding Yvonne Orji, truly got to shine in season two, juggling her friend's relationship snafus with her own drama. Apart from exploring the shades of grey in the complicated -- and sometimes very uncomfortable -- world of millennial dating, Molly also tackled two tough issues that frequently affect women of color: mental health and the wage gap. We were right there with her, rooting her on.
14. Joyce Byers, Stranger Things
Why We're Obsessed: Best. Mom. Ever! On the second season of Stranger Things, Winona Ryder shined as bright as a strand of Christmas lights as Joyce Byers, who was on a quest to keep her son, Will, safe from the perils of The Upside Down. Seriously, Joyce takes the term "mama bear" to ferocious new heights. Although we were sad to see Bob get devoured by that vicious demo-dog, we were also secretly a little happy, because this clears the way for Hawkins' two best detectives -- Joyce and Hopper, natch -- to finally get together in season three.
15. Michael Burnham, Star Trek: Discovery
Why We're Obsessed: As the first-ever human to attend the Vulcan Learning Center, Michael Burnham was breaking down barriers long before she set foot on the USS Discovery. Sonequa Martin-Green's portrayal of the embattled Starfleet officer embraces both the character's intelligence and imperfections, as well as her internal struggle between her emotional instincts and Vulcan-influenced logic. We may have met her as a mutineer, but it's clear that Burnham is a natural-born leader.
Which kickass TV ladies were you obsessed with in 2017? Shout out your thoughts to @LeanneAguilera on Twitter!
Additional reporting by Philiana Ng and Jennifer Drysdale.
RELATED CONTENT:
CLICK: All of 2017's Best Music, Ranked
MORE: Biggest Celebrity Feuds of 2017