TV
Happy Valentine's Day! Look Back at the 14 Most Swoonworthy First Kisses on TV!
By
NBC, Starz, Fox, Freeform, The CW
Love is in the air!
It's Valentine's Day, and whether you've been pricked by cupid's arrow, celebrating with your closest gal-pals, or flying solo this year, there's one thing we can all agree on: our real-life first kisses are absolutely nothing like the mindblowingly romantic relationships on TV.
From high-flying high school make-outs, to pent-up wedding night passions and forbidden office romances -- there's nothing quite like watching your favorite couples finally lock lips.
So which small screen couples shared the biggest first kisses? In no particular order, (seriously, we love them all equally!) here are the 14 most swoon-worthy TV smooches...
1. Ross Gellar and Rachel Green, Friends Before this two lobsters had a baby -- or debated back and forth about that infamous break! – Ross (David Schwimmer) and Rachel (Jennifer Aniston) kicked off their on-again-off again relationship with this perfect rainy night Central Park kiss in Friends' second season.
2. Jim Halpert and Pam Beesly, The Office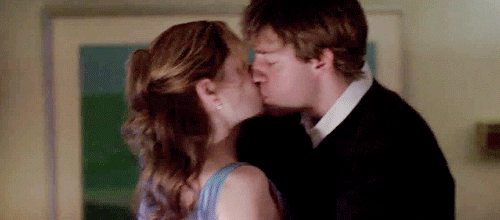 After two seasons of office flirtations, Jim (John Krasinski) went all in with his casino night confessions of love. Luckily, the paper salesman played his cards right because he won a sweet first kiss with Pam (Jenna Fischer) underneath the dim fluorescent nights of Dunder Mifflin. It was the ultimate watercooler moment!
3. Kurt Hummel and Blaine Anderson, Glee
Over the course of this musical dramedy's six season run, we witnessed dozens of smooches, but none of them made us as gleefully giddy (cheesy title pun intended) as when Blaine (Darren Criss) surprised Kurt (Chris Colfer) with this chemistry-packed kiss.
4. Damon Salvatorre and Elena Gilbert, The Vampire Diaires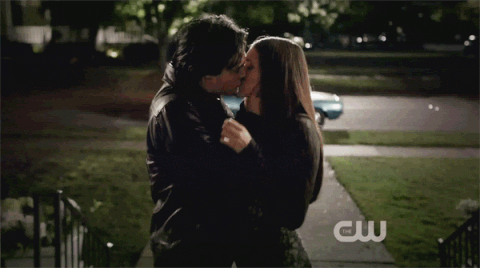 They say, "love bites," but it was actually pretty damn epic when Damon (Ian Somerhalder) planted this guilt-free kiss on Elena (Nina Dobrev) -- aka his brother's girlfriend -- in season three. Stefan (Paul Wesley) may have been the love of Elena's life, but Damon was the love of her afterlife -- and in this undead drama, that's what truly matters.
5. Jamie Fraser and Claire Randall Fraser, Outlander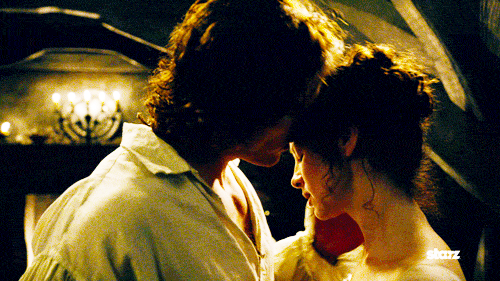 Aye, Sassenachs! This passionate wedding night smooch may not have been Jamie (Sam Heughan) and Claire's (Caitriona Balfe) very first kiss, but in our Outlander-loving opinion, it's the one that changed everything. The Lord may have gifted Jamie with a rare woman (and, God! He loved her well) but we'll forever be offering up our prayers of gratitude for giving us this powerfully romantic couple.
6. Fox Mulder and Dana Scully, The X-Files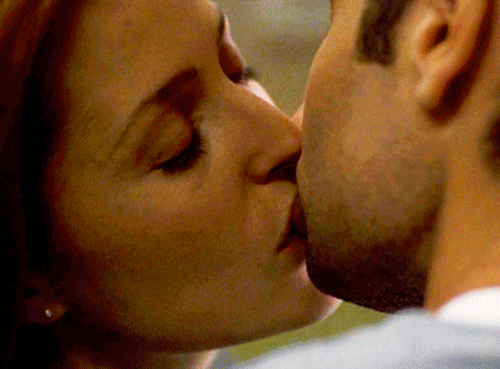 For years, X-Files fans wondered (and argued!) if this will they/won't they pairing would ever change their on-screen dynamic from professional to romantic. So while the rest of the world worried about systems crashing in the Y2K countdown to the year 2000, Mulder (David Duchovny) and Scully (Gillian Anderson) rebooted their relationship with this subtly sweet New Year's Eve kiss.
7. Spike and Buffy Summers, Buffy the Vampire Slayer
Sorry, Angel fans! We don't mean to drive a stake through your heart on Valentine's Day, but our adoration for this first kiss between Spike (James Marsters) and Buffy (Sarah Michelle Gellar) is immortal. While it's true that this opposites-attract couple shared a much more passionate kiss in the undead drama's musical episode, "Once More With Feeling," there's something so pure about watching this Slayer smooch in season four.
8. Ben Wyatt and Leslie Knope, Parks and Recreation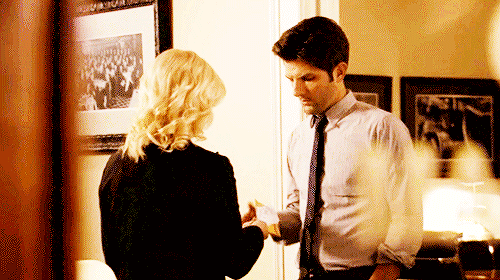 What do we love more than a big plate of waffles and whipped cream at JJ's Diner? Watching the highly anticipated (and supremely swoon-worthy!) first kiss between Ben (Adam Scott) and Leslie (Amy Poehler). We love them and we like them.
9. Olivier Queen and Felicity Smoak, Arrow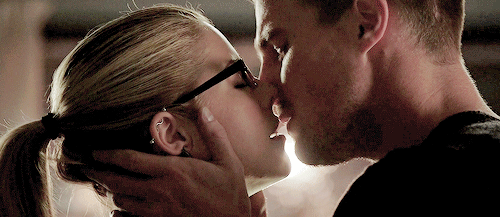 Ever since Felicity (Emily Bett Rickards) made her adorably memorable Arrow debut in season one, (red pen FTW!) fans were dying for Oliver (Stephen Amell) to sweep this tech-saavy blonde off her feet. So it was especially satisfying to watch Oliver finally seal his true feelings with a kiss in the superhero drama's third season premiere.
10. Alison DiLaurentis and Emily Fields, Pretty Little Liars
From a school girl crush to a pregnancy-packed engagement! The relationship between Emily (Shay Mitchell) and Alison (Sasha Pieterse) over PLL's seven seasons was filled with some pretty am-A-zing ups and downs, but our favorite moment will always be this pretty little flashback to their first kiss.
11. Barry Allen and Iris West, The Flash
We'll admit it -- it was hard to keep up with how many first kisses the fastest man alive has planted on Iris (Candice Patton) over The Flash's first few seasons. (They all kept getting erased from the timeline!) Luckily for us, Barry (Grant Gustin) finally gave his dream girl this perfect moment on the porch of their childhood home -- and let's just say it was worth the wait.
12. Pacey Witter and Joey Potter, Dawson's Creek
"She's so beautiful that when you look at her, your knees tremble, your heart melts, and you know right then and there, without reservation, that there's order and meaning to the universe." If Pacey's (Joshua Jackson) description of Joey (Katie Holmes) -- aka his best friend's soulmate -- doesn't make you weak in the knees, than watching their first kiss certainly will!
13. Ryan Atwood and Marissa Cooper, The OC
A year before The Notebook had their infamous ferris wheel moment, Chino bad boy Ryan (Benjamin McKenzie) braved his fear of heights for the chance to woo Marissa (Mischa Barton) at the Summer Kickoff Carnival. Their high-flying moment was packed with so much chemistry the Newpsies are still gossiping about it!
14. Zack Morris and Kelly Kapowski, Saved By the Bell
We're wrapping this list up with an oldie, but a goodie! When Kelly (Tiffani Amber Thiessen) couldn't afford to go to the prom, Zack (Mark-Paul Gosselaar) surprised Bayside's most eligible bachelorette with her own prom picnic outside of the gym. They danced. They kissed. We swooned. And it was all just too damn adorable.
That's it, lovers! Which of these first kisses was your personal favorite? And what other on-screen couples do you think should have been added to our list? Share your thoughts with @LeanneAguilera on Twitter!
RELATED CONTENT:
Meghan Markle and Prince Harry Wow in Scotland Ahead of Valentine's Day
Gal Gadot's Pink Suit, Margot Robbie's Floral Dress & More Celebrity-Inspired Valentine Day's Outfits
Kim Kardashian Sends Her 'Haters' Valentines Gifts -- Including Taylor Swift!