Movies
Noah Centineo's Netflix Double Feature: Your Guide to Peter in 'To All the Boys' and Jamey in 'Sierra Burgess'
By
Netflix/Getty Images/Netflix
Warning: This story contains spoilers from To All the Boys I've Loved Before and Sierra Burgess Is a Loser.
We're shouting it loud and proud from the rooftops: We're obsessed with Noah Centine-"woah woah woah."
Though he's been acting for a decade, all it took was a little Netflix rom-com (and then another one right after that) to catapult the actor to new heights. From Peter Kavinsky in To All the Boys I've Loved Before to Jamey in Sierra Burgess Is a Loser, he's pretty much an expert at playing boyfriends we can't get enough of.
Adorable smiles and cool rides aside, Peter and Jamey aren't actually that similar. "He's much more confident and a bit of a player in To All the Boys. In Sierra, he's much more sweet and understanding," Tamara-Lee Notcutt, who cast both films, told ET. "He has a deaf brother, he learned sign language, but it's not sickly sweet like I'm going to choke myself on some candy. It's very grounded and real, even though he's very sweet and humble."
"It was actually kind of bizarre, especially because To All the Boys came second," Notcutt noted. "He's the right guy for both jobs, so it worked out."
Ask Centineo which character he identifies with most, and he'll give you just the answer you're hoping for: He's like both.
"If I'm in an environment or circumstance that calls for, like, a Peter, like an ego-aggressive mentality to come out, then sure. But in my day to day, most of the time, I stick to Jamey," he recently told ET. "[He's] definitely goofy. He's got his dope friends and they're super conscious. I like him."
"They're obviously both hot jock types, but the Jamey character is a lot sweeter and maybe a little more cerebral. It's a slightly different side to him," Sierra Burgess screenwriter Lindsey Beer told ET. "He's not as cocky as Peter is, and so I would say, it's a different shade of the same color. If you liked him as Peter, you'll like him as Jamey."
With Centineo earning the title of the Internet's boyfriend, we're breaking down the similarities -- and differences -- in ET's guide to the two he's playing on Netflix.
Who Is Peter Kavinsky in To All the Boys I've Loved Before?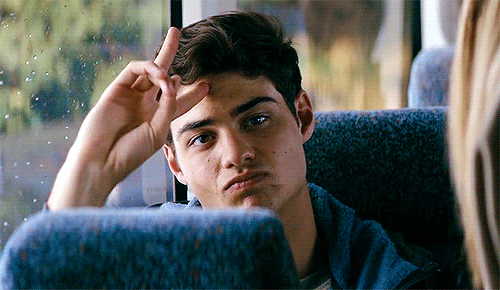 One of Lara Jean's love letter recipients, Peter Kavinsky is Adler High's lacrosse jock who is the definition of cool. He's "king of the cafeteria crowd" (translation: uber popular), good-looking, has major flirt game and drives a sweet car (more on that later). But as time goes on, it becomes clearer and clearer that there's more going on behind those golden-speckled eyes.
After Peter and Lara Jean mutually agree on entering into a fake relationship, Peter reveals quirks about himself he's rarely allowed others to see. Like how he's having a tough time getting over his dad abandoning his family or that he cares a lot about things that actually matter (i.e. responsible driving, #teamkombucha!) or that he's super woke (exhibit A: his spot-on call-out of Sixteen Candles' explicit racism).
If that isn't enough to make you swoon, he's romantic, respectful of Lara Jean's boundaries and even drives across town to make sure she has her favorite Korean drink. It's hard to create the perfect fictional boyfriend, but somehow To All the Boys did it with Peter Kavinsky.
Who Is Jamey in Sierra Burgess Is a Loser?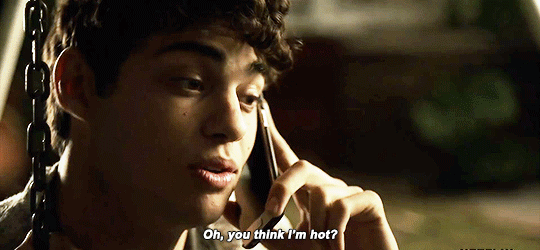 The quarterback of a rival high school's football team, Jamey pretty much has it all. He's hot, popular, smart and sympathetic. He's mildly awkward about normal teenage boy stuff, like asking a pretty girl out and sending shirtless selfies (BLESS), but enough to make his seemingly perfect character relatable.
"Losers hang out with losers," Sierra Burgess' high school queen bee, Veronica, says in the movie, but that doesn't appear to be the case with Jamey. His friends may be a bit dopey, but Jamey's not a stereotypical jock. Instead of hanging out with the popular crowd, Jamey spends much of his free time hanging out with his little brother, who is deaf -- and texting Sierra Burgess, of course.
The To All the Boys Love Triangle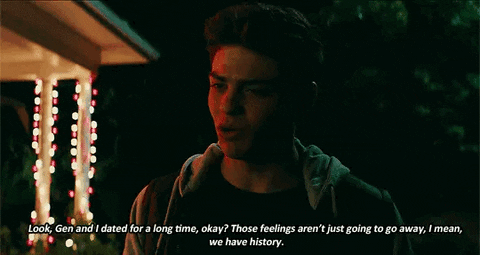 It can be argued that there are two love triangles: one between Lara Jean, Peter and Josh, and a second between Lara Jean, Peter and Gen. Unfortunately for Josh, he's never actually truly in the mix -- even though in the book by Jenny Han, he most definitely is -- so we're going to focus on the second.
At the start of the film, Peter is happily dating Gen, Lara Jean's ex-bestie, but she dumps him for a college freshman. Womp womp. Soon after Lara Jean and Peter start to fake date (partially so Peter can get Gen back, but we're 99.9 percent sure Peter was already into Lara Jean), Gen is a constant thorn in their side. There's the time she steals Lara Jean's favorite scrunchie (and never gives it back!). And the time she (maybe) leaks the hot tub video on Instagram for all to see. And the time she tells Peter she's going to make a move on him on the ski trip -- with Lara Jean unintentionally listening in. Like we said, it's complicated.
The Sierra Burgess Love Triangle
This one gets a little complicated, because Jamey doesn't actually know he's in a love triangle. He thinks he's dating Veronica, and only Veronica. Here's the trick: The Veronica he's been falling in love with over lengthy texts and late-night calls is actually Sierra, who, instead of working up the courage to tell him he has the wrong number, has been impersonating the cheerleader he asked out.
Veronica eventually agrees to Sierra's request to play herself on a date with Jamey, but it isn't until months into this ruse of a relationship that Jamey realizes he's at the center of a convoluted catfishing scheme. It's a love triangle for the 21st century!
Peter and Jamey's Surprising First Kisses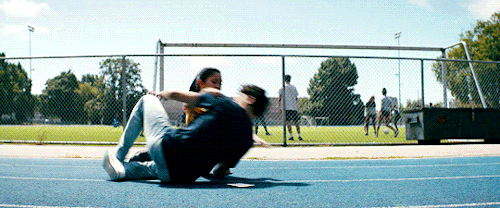 Peter wasn't exactly ready for his first kiss (OK, second after spin the bottle in 7th grade) with Lara Jean in To All the Boys, when she surprisingly plants one on him on the track field, trying to avoid an awkward conversation with Josh about her love letter. It's unexpected but actually kind of enchanting, despite the crew of runners jogging past.
In Sierra Burgess, Jamey's first kiss is a little less romantic and a little more cringe-worthy (but in the best way). Sierra only has one rule for Veronica on her date with Jamey: don't kiss him. So when Jamey puckers up after the movie, the girls are forced to pull a hilariously awkward switcheroo, demanding Jamey close his eyes for the magical moment. Veronica steps out, and Sierra steps in for a surprisingly passionate lip lock before she runs away and leaves Jamey befuddled but delighted.
Peter and Jamey's Sick Cars
One thing Peter and Jamey have in common: pretty sick rides. Peter's Jeep Sahara in To All the Boys practically becomes a character in itself as his driving Lara Jean and her little sister to school is a condition of their fake relationship.
Netflix must have been a big fan of Jeeps (who isn't?), because Jamey drives a red Jeep in Sierra Burgess, providing the backdrop for the movie's most uncomfortable (that kiss!) and endearing (the homecoming reunion) moments.
Peter and Jamey's Adorable Sibling Moments
Both Centineo's characters in To All the Boys and Sierra Burgess have relationships with siblings. In To All the Boys, Peter doesn't actually have much interaction with his younger brother, Owen (who we learn is super shy), but it seems like they're on good terms. It's his bond with Lara Jean's precocious sis, Kitty, that truly stands out, as illustrated in that iconic popcorn-moving scene pre-pillow fight -- improvised, by the way -- that had our hearts aflutter.
Jamey's relationship with his younger brother, Ty, who is deaf, in Sierra Burgess is explored more heavily. There are several sweet moments Jamey and Ty share in the movie, like the fact that they spend their evenings playing video games and Jamey lets him pick his pajamas once in a while, to the cute declaration he makes about making his brother the first "4-foot tall quarterback."
Noah Has Iconic "Woah Woah Woah" Moments
Whether it's his lovable "woah woah woah's" in To All the Boys (seriously, there are too many to name!) or the "woah woah woah's" in Sierra Burgess (during Jamey and Sierra's first phone call and at the beginning of the parking lot scene), we can't get enough of Centineo's adorable stuttering.
Hold on, hold on, hold on for just a second while we rewatch this hilarious compilation and remember all the times we fell in love with him.
To All the Boys I've Loved Before and Sierra Burgess Is a Loser are streaming now on Netflix.
RELATED CONTENT:
'To All the Boys' Sequel: Lana Condor and Noah Centineo Hope Lara Jean & Peter Don't Split Up (Exclusive)
Noah Centineo and Shannon Purser Gush Over Her First On-Screen Kiss (Exclusive)
Noah Centineo Has the Cutest Response to Being Called the New Heartthrob of Romantic Comedies (Exclusive)