TV
'The Big Bang Theory': Sheldon Sings 'Soft Kitty' for Amy and This Could Be the Last Time We Hear That Song!
By
CBS
Soft kitty… warm kitty… oh, you know how it goes!
As the countdown to The Big Bang Theory's series finale looms on May 16, these last few episodes are bringing a flurry of final moments to our screens -- and we might've just seen the very last rendition of Sheldon's "Soft Kitty."
The short, but soothing tune has been serenaded countless times since the long-running CBS comedy's first season, but as we watched this week's episode, "The Inspiration Deprivation," we're realizing this could be the end of the earworm's era!
In an attempt to comfort Amy, who was worried she was "letting everybody down" in her quest to win a Nobel Prize, Sheldon sweetly sang his childhood lullaby to his wife.
Not only is this the very first time that Sheldon sings "Soft Kitty" for Amy, but this moment was another perfect example of just how far Sheldon's compassion and empathy have evolved over the course of the long-running CBS comedy.
Way back in the season three premiere, "The Electric Can Opener Fluctuation," Sheldon was feeling sad because Leonard, Raj and Howard lied to him about his false discoveries in their North Pole expedition.
In an effort to cheer him up, Penny started singing "Soft Kitty," but Sheldon quickly interrupted his neighbor and snapped, "That's for when I'm sick! Sad is not sick."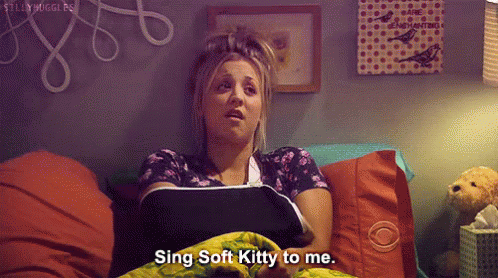 Over the years, Sheldon has altered his initial rules and used "Soft Kitty" as a way to sooth his friends -- like when he sang the melody to Penny when she broke her arm in the season three episode, "The Adhesive Duck Deficiency."
And, most recently, fans watched as Amy crooned this iconic song to Sheldon (in three different languages!) in the season 10 episode, "The Recollection Dissipation."
Now with only four episodes left -- including the special one-hour series finale! -- the watch is on for the final renditions of Big Bang's most beloved and long-running jokes.
ET reached out to The Big Bang Theory to ask if this is indeed the last time we will hear Sheldon's lullaby on the comedy, but we've yet to hear back.
Regardless, we're loving the way that this adorable song has been used over the past 12 seasons, and if this was the overture of "Soft Kitty" -- we think it went out with a bang!
The Big Bang Theory's final season airs Thursdays at 8 p.m. EST/PST on CBS.
RELATED CONTENT:
'The Big Bang Theory': Watch Johnny Galecki Discover Something New About Kaley Cuoco (Exclusive)
'The Big Bang Theory' Cast Cries Over History-Making Show (Exclusive)
Mayim Bialik Had Never Heard of 'The Big Bang Theory' Before Joining the Cast
Related Gallery