TV
'The Bachelor': 9 Reasons Why Kaitlyn Bristowe Should Be the Next 'Bachelorette'!
By
ABC

WARNING: We're about to discuss major spoilers from this week's episode of The Bachelor. If you do not wish to be spoiled (or find out the depth of our love for one amazing bachelorette) then leave this hallowed ground. For everyone else, grab the nearest Bali monkey and leg's go!

And then there were two.
In this week's episode of The Bachelor, Chris Soules finally reached the infamous "fantasy suite" stage of the romance competition. If you've been living under a Bachelor-free rock, this is the point in the TV series where it is somehow perfectly acceptable for the farmer to (potentially) have sex with three different women in less than one week. What a classy American pastime.
Three "amazing" dates later, the Iowa native decided to award the final two roses to fertility nurse Whitney, and uber-virgin Becca. This left our personal favorite contestant, Kaitlin, roseless, "humiliated," and heartbroken.
Not to worry, Bachelor fans! The 29-year-old's quest for love is not over yet because we at ETonline have nine reasons why we think ABC should make Kaitlyn Bristowe the next leading lady of The Bachelorette.
NEWS: Chris Soules Reveals He's Found Love on 'The Bachelor'

1. Kaitlyn is adorable, gorgeous, and hilarious all rolled up into one beautiful package:

2. She always says what's on her mind. (Even if it doesn't always make sense…)

3. Kaitlyn knows it's all right to push the boundaries of a man's comfort zone…

4. Especially if it will show off her amazing sense of humor.

5. She isn't afraid to accept a dare, and flash her wild side.
NEWS: 7 Times We Were 'Blessed' By Kelsey Poe on 'The Bachelor'

6. Kaitlyn can roll with the craziness of the Bachelor dates.

7. She knows that sometimes "weirdos" make it into the competition…
(But that she doesn't need to take them seriously.)

8. She understands the importance of a final decision, and would be able to send the fellas home without hesitation.

9. And, most of all, Kaitlyn's smile is wildly contagious.
So come on, ABC! Make Kaitlyn your next Bachelorette. We're pretty sure we already know what she'd say to the offer…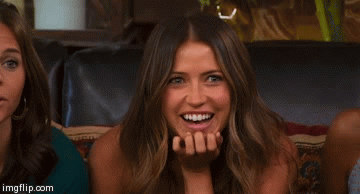 The Bachelor airs Mondays at 8 p.m. on ABC.

Were you sad to see Kaitlyn eliminated from The Bachelor this week? Do you think Kaitlyn would be a great Bachelorette? Sound off in the comments below or chat with @LeanneAguilera on Twitter.

Related Gallery