TV
14 Times Viola Davis Was a Complete and Total Badass on 'How to Get Away With Murder'
By
ABC
It's time to say goodbye to TV's biggest badass.
Viola Davis has been a powerhouse of perfection this television season both off-screen -- with her incredibly poignant SAG Awards speech -- and on-screen as the formidable Annalise Keating on ABC's smash series How To Get Away With Murder.
HTGAWM's special two-hour season finale airs tonight at 9 p.m., but before we get the answers to our most burning murder-related questions, let's take a look back at the 14 times Davis proved that Annalise is the most badass female on the small screen.
WATCH: Viola Davis Teases Sexy Return of 'HTGAWM': 'Trust Me, It's Crazy!'
1. When she showed us that a true badass doesn't care what anyone thinks.
2. When she insulted her bitch of a sister-in-law with this clever little rhyme.
3. When she called people out on their bulls--t.
4. When she perfected the art of eye-rolling.
5. When she taught us that insults are most effective when you enunciate.
WATCH: How the Twists on 'HTGAWM' Are Kept Top Secret
6. When she reprimanded, insulted, and embarrassed one student all in one glorious sentence.
7. When she admitted that sometimes, even the most powerful women need their momma.
8. When she perfected the 'I'm-better-than-you' insult combined with the 'don't-mess-with-me' strut.
9. When she owned up to her flaws.
10. When she demanded someone to throw an insult in her face instead of hiding it behind her back.
NEWS: Viola Davis' Powerful SAG Awards Speech Might Make You Cry
11. When she commanded the room and simultaneously gave poignant advice.
12. When she explained the best tactic for getting what you want.
13. When she proved that there's a fine line between crazy and brilliant.
14. And, most importantly, when she taught us how to get away with murder.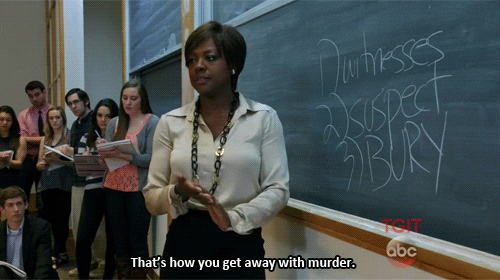 How to Get Away With Murder's two-hour season finale airs tonight at 9 p.m. on ABC.
Related Gallery