TV
Ranking the 14 Most Heartbreaking TV Deaths of 2016!
By
WARNING: If you are not caught up on some of the biggest shows on TV, then you should leave immediately because we're about to rehash the most harrowing character deaths of 2016.
Over the past 12 months, TV fans have experienced some of the most traumatic twists and gut-wrenching turns as many of our favorite characters were murdered, devoured and obliterated from our screens. (Damn. As if 2016 wasn't difficult enough...)
We're counting down the 14 most heartbreaking TV deaths of the year, so grab the biggest box of tissues you can find and prepare for an emotional trip down memory lane…
MORE: 14 of the Biggest Celebrity Heroes of 2016

14. Chad Radwell (Scream Queens)

From his very first douche-tastic line in the Scream Queens pilot, we quickly fell in love with Chad's egotistical and hilariously inappropriate personality. So you can imagine how distraught we were when his blood-smeared body plummeted through the ceiling of the hospital chapel just moments before he was supposed to say "I do" to Chanel. Luckily, Glen Powell told us he's hoping for a triumphant return to the Fox horror/comedy with a twin twist...

13. Barb Holland (Stranger Things)

If you didn't hear about Barb Holland's death on Netflix's smash drama Stranger Things, then you clearly must have been living under a social media-free rock for all of 2016. Barb was undeservingly sucked into the Upside Down dimension by a Demogorgon after cutting her hand open while shot gunning a beer at a party. Fans have been crying #JusticeForBarb on Twitter ever since, so ET caught up with star Shannon Purser to chat about the "crazy" response to Barb's death.

12. Tommen Baratheon (Game of Thrones)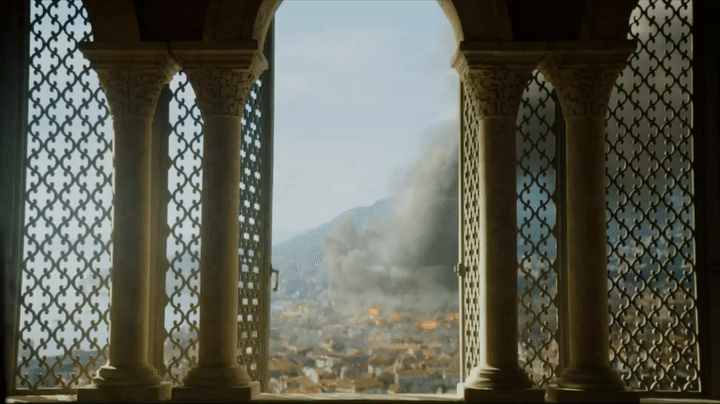 After his beloved queen -- and all of the Sparrows -- were killed in a giant explosion of wildfire in Game of Thrones' season six finale, Tommen Baratheon had a calmly eerie response to his wife's demise. The young king took off his crown and proceeded to jump head-first out of his high-towered bedroom. ET recently sat down with star Dean-Charles Chapman (on the Iron Throne!) and he confessed that he was really happy that Tommen finally "chose his own path" in the end -- even if that path led to his untimely death.

11. Angus Mhor (Outlander)

Outlander fans were forced to endure a gut-wrenching twist when fan-favorite character Angus Mhor suffered a fatal, wartime wound in the Battle of Prestonpans and died unexpectedly. It was especially shocking because in the Diana Gabaldon novel, Dragonfly in Amber, on which Season 2 of the Starz series is based, it was Rupert -- not Angus -- who was supposed to meet his demise.
MORE: 14 Most Gorgeous Celeb Wedding Dresses of 2016

10. Tyler Lockwood (The Vampire Diaries)

In a long-running show about the undead, it's only natural that The Vampire Diaries has killed off some (OK pretty much all) of our favorite characters over the past eight seasons, but we really thought that our O.G. Mystic Falls residents were going to be safe this year. Unfortunately for Tyler Lockwood, he could not escape Damon's anti-humanity rage and his high school BFF Matt was forced to find Tyler's bloody, cutthroat corpse in the trunk of a car. How traumatizing!

9. Robin Hood (Once Upon a Time)

Well, this certainly was not a happy ending we were hoping for. Once Upon a Time destroyed one of the sweetest on-screen relationships with the unexpected death of Robin Hood near the end of the fairy tale drama's fifth season. Robin selflessly sacrificed himself by shielding his beloved Regina from the blast of Hades' Olympian crystal. To make matters even worse, the crystal has the power to end someone's entire existence, which means that Regina has absolutely no way of magically reuniting with Robin.

8. Laurel Lance (Arrow)

Laurel Lance, a.k.a. The Black Canary was tragically killed by the end of Arrow's fourth season when Damian Darhk stabbed her through the chest with one of Oliver's green arrows. While Laurel seemed to make it through her emergency surgery, surviving long enough to exchange some heartbreaking words with Team Arrow, she coded when she and Oliver shared a private moment alone, and was pronounced dead at 11:59, the title of the somber episode.

7. Wes Gibbins (How to Get Away With Murder)

How to Get Away With Murderfans were shocked when it was revealed that Wes Gibbins, one of Annalise Keating's original law students, was the badly burned, lifeless body hiding under the coroner's sheet in season three. Star Alfie Enoch will continue to film episodes for the remainder of season 3 as the show flashes back and forth to reveal just who killed Wes and why, but we're sad to say goodbye!
MORE: Celebrity Sparklers! The 11 Best Engagement Rings of 2016

6. Hodor (Game of Thrones)

With Game of Thronesofficially surpassing the plot of George RR Martin's books, the HBO drama delivered a blindsiding death when Hodor sacrificed himself to save Bran and was attacked and consumed by an army of wights. And here's when it gets even more depressing: While Hodor was following instructions to "hold the door," Bran inadvertently warged into the mind of Hodor's younger self, Wylis, and linked him into the mind of the present-day Hodor. This mental trauma caused Wylis to suffer a seizure, and began the boy repeating "Hold the door!" -- eventually slurring the sentence together until it became the only thing he could ever say: "Hodor."

5. Richard Gilmore (Gilmore Girls: A Year in the Life)

Since his passing in 2014, Gilmore Girls fans have been mourning the loss of star Edward Herrmann, but the emotional wounds were reopened in Netflix's four-part revival. The winter episode of Gilmore Girls: A Year in the Life flashbacked to Richard Gilmore's funeral and we couldn't help but sob alongside Emily, Lorelai and Rory as they grieved the loss of their stoic patriarch.

4. Poussey Washington (Orange Is the New Black)

During an initially peaceful demonstration in the cafeteria, Poussey tried to de-escalate a misunderstanding between the guards and Crazy Eyes, so CO Bayley restrained Poussey by putting her face down on the floor and keeling on her back. As Crazy Eyes continues to struggle, Bayley put all of his weight on Poussey, who is unable to breathe and she is accidentally suffocated. Star Samira Wiley spilled to ET that life after OITNB has been "amazing," but she'll always have a special place in her heart for Poussey.

3. Jack Pearson (This is Us)

One of 2016's biggest new shows also delivered one of the most heartbreaking deaths of the entire year. The mystery of Jack Pearson's whereabouts became a looming question for NBC's breakout freshman drama once it became increasingly clear that the character was missing in action in the present day scenes, and in the series' fifth episode it was confirmed that Jack had passed away. Looking back, there were 13 separate clues hidden in in the first five episodes that should have tipped us off to Jack's mysterious fate, but many fans (like us!) were too busy falling head over heels for this show to truly notice.
MORE: The 12 Best Moments from the President's Last Year in Office

2. Lexa (The 100)

We're filing this death under equal parts heartbreaking and enraging. Just a few minutes (of screen time) after Lexa and Clarke finally consummated their slow-burning relationship on The 100, the Grounder Commander was killed by a stray bullet from the gun of her right hand, Titus, as he tried to kill Clarke. It was shocking and senseless and, truthfully, we're still not over it.

1. Glenn Rhee (The Walking Dead)

It's well-known that it was actually Glenn who died at the hands of Negan's bat in Robert Kirkman's beloved comics, but this Walking Dead death was still truly miserable to witness. After Negan's bone-chilling game of "eenie, meenie, miney, moe" up and down the line of Rick's crew, the Saviors' sadistic leader selected both Glenn and Abraham to be Lucille'd. While fans mourned the loss of the Walking Dead original, star Steven Yuen confessed that Glenn's last four words -- "Maggie, I'll find you" -- were the "perfect" way to say goodbye.
Which 2016 TV death was the most shocking and heartbreaking for you? Share your thoughts with @LeanneAguilera on Twitter!