TV
Westeros Weekly: Gwendoline Christie Talks Tormund Flirtations & Her Biggest 'Game of Thrones' Wish for Brienn
By
HBO

Game of Thrones just keeps getting better and better, and this Sunday's chapter, "Eastwatch," was no exception!

This week on Westeros Weekly, we're talking all about Cersie and Jamie's newest bundle of (incestuous) joy, Jon Snow getting on Drogon's good side, and how Gendry rowed his way back into our hearts.
Best of all, Game of Thrones star Gwendoline Christie is dishing exclusive details on what she hopes her character, Brienne of Tarth, will accomplish before she dies and whether or not Tormund actually has a shot in Westeros at winning her over.

MORE: 'Game of Thrones': A Fan Favorite Returns for an Epic Team-Up -- Plus, [SPOILER] Is Pregnant!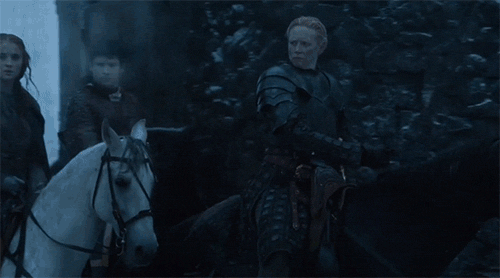 "I don't think that a male companionship is really on Brienne's agenda," Christie confessed to ET at Comic-Con in July.
"Certainly, I think there's something of some significance that's causing Brienne to give it some thought, but it isn't in the form of Tormund I don't think," the 38-year-old actress continued. "I think that possibly Brienne has a slightly more complex relationship with someone else and perhaps that takes up her fullest capacity."
Hmm… we definitely think that the "more complex relationship" Christie is referring to is the unrequited love dynamic between Brienne and Ser Jaime Lannister.
It's obvious that Brienne has had deep feelings for Jaime for many seasons now, but does that mean that there's absolutely no hope for a Tormund love tryst?
"I think maybe it's the nature of Tormund's advances, whilst amusing, they're not really enticing," Christie added. "She's a woman that is inspired [by] and attracted to mutual respect."
Preach, girl.

WATCH: Leslie Jones Gives Hysterical 'Game of Thrones' Commentary as Cast Member Surprises Her

Press play on the video above for even more Game of Thrones insight from Christie -- including her favorite Westeros resident and who really deserves to be sitting on the Iron Throne by the end of the series!

Wildfire Fast Five With Gwendoline Christie


1. Who's your favorite character and why?
I love Cersei Lannister because she is a nasty piece of work.

2. If you could bring one character back to life, who would it be?

It has to be Catelyn Stark. I mean, it felt like she was the mother of the show.

3. What would you like to see your character accomplish before he/she dies?

I personally loved Brienne's fight with The Hound and I would love to see something resembling a rematch on steriods.

4. Which unlikely team-up would you like to see before the end of the series?

Brienne and Varys because Cornith Hill will make me cry with laughter and I can't think of any greater joy.

5. At this point in the show, which character do you think deserves to sit on the Iron Throne by the end of the series?

I think it could quite possibly be Bran because I think that the entire show could be a projection from inside his mind.
Make sure you subscribe to Entertainment Tonight's YouTube channel, so you never miss an episode of Westeros Weekly. Plus, be sure to send your favorite Game of Thrones comments, questions or theories to @LeanneAguilera and @AshCrossan on Twitter and your tweets could be featured in the next episode!