Hell hath no fury like a woman scorned – especially on 'Game of Thrones'!
Hell hath no fury like a woman scorned – especially on Game of Thrones!
Over the past seven seasons, the ladies of the Seven Kingdoms have kicked a** far and wide, taken names, and in Arya's case, even given up her own.
From Cersei to Sansa, these fierce Game of Thrones women have proved that a take-no-prisoners attitude – even if you actually do take them, and torture them for a while – is all you need to get ahead.
In celebration of International Women's Day, we're taking a look back at eight ridiculously satisfying times that these badass ladies completely stole the show!
When Arya Stark fed Walder Frey his family and then slit his throat...
Stark. Assassin. Talented Baker. For years, Walder Frey – the man who arranged the brutal murders of Catelyn and Rob Stark at the infamous Red Wedding – was at the top of Arya Stark's hit list. So it was both delicious and vicious to watch Arya use her new Faceless Men skills to trick Frey into eating a pie made from his family's dead corpses in the HBO drama's sixth season finale. The cherry on top of this recipe for revenge? Watching Arya smile as she slit Frey's throat.
When Cersei Lannister blew up the Great Sept of Baelor...
What happens when a group of religious fanatics publicly shames (SHAME!) the Queen Mother of the Seven Kingdoms? Well, as we saw in season six, episode 10, Cersei found her revenge with a vicious explosion of wildfire and kill hundreds upon hundreds while sipping on a fine glass of red wine. This takes the phrase "Yasss, Queen!" to a whole new level.
When Sansa Stark surprised Petyr Baelish with a death sentence...
For years, fans watched in frustration as Sansa's journey into hell was manipulated by the oh-so cunning and conniving Petyr Baelish. Thankfully, Sansa finally came to her senses in GoT's satisfying season seven finale and – with the help of her own assassin/little sister Arya – she turned the tables on Littlefinger and ended his sneaky behavior for good.
When Ellaria Sand gave Myrcella Baratheon the kiss of death...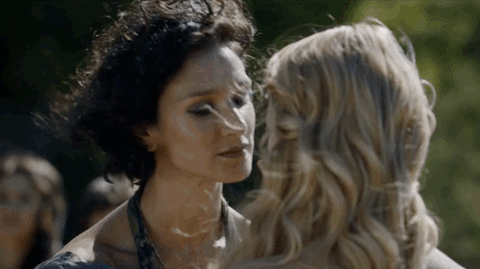 Ellaria Sand kissed a girl, and she liked it! Why? Well, because killing Myrcella Baratheon (who was actually the love child of Lannister family incest, obvs) in the season five finale was the perfect way to twist the knife in Cersei's heart from afar. While we do feel bad for poor, innocent Myrcella, Ellaria still deserves a slow clap for her unwavering determination for revenge and creative murder tactics.
When Lyanna Mormont started the revolution for the King of the North...
What's not to love about Lyanna Mormont? She's ferocious, unfiltered and the formidable protector of House Mormont on Bear Island. She may be young, but her influence is undeniable. When the northern leaders gathered at Winterfell in the season six finale, Lyanna single-handedly sparked the movement to declare Jon Snow as the new King of the North.
When Olenna Tyrell revealed she murdered Joffrey...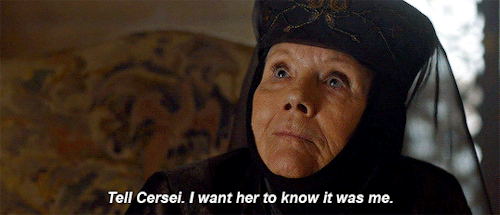 Jaime Lannister may have sentenced Olenna Tyrell to death by poison in the third episode of season seven, but the Tyrell matriarch stole the scene with a shocking and satisfying revelation. "Tell Cersei. I want her to know it was me," she said, coolly boasting that she was the one who poisoned Joffrey, Jaime and Cersei's son back in season four. SAVAGE!
When Brienne of Tarth beat the Hound in a gruesome battle...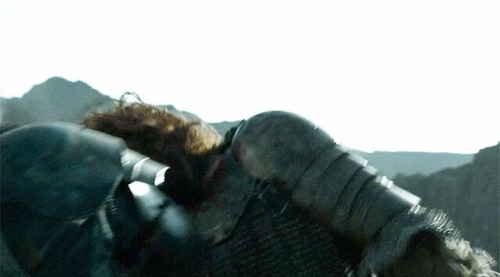 In one of the standout sequences of the fourth season finale, Brienne of Tarth viciously clashed with The Hound in a bloody battle to be Arya Stark's protector. Dozens of punches were thrown, delicate body parts were kicked, and at the end of it, Brienne shoved The Hound off a small cliff and left him for dead. It was both gruesome and glorious to watch.
When Daenerys Targaryen ordered the unsullied army to kill the masters...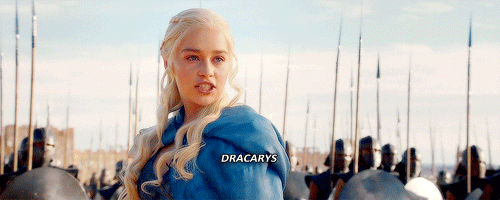 This scene-stealing moment may have happened early on in Game of Thrones' long run, but we still consider the Slavers Bay slaughter of season three to be one of the most satisfying twists of all time! When Daenerys seized control of the unsullied army and admitted that Valyrian is her mother tongue, and thus she had understood every vulgar and crass word Kraznys mo Nakloz had been saying about her, we nearly passed out from satisfaction.
The eighth and final season of Game of Thrones premieres Sunday, April 14 on HBO.
RELATED CONTENT: