Grammys
GRAMMY Nominations That Won't Happen This Year -- Even Though You Think They Should
By
Warner Bros. Pictures/YouTube
The 2019 GRAMMY nominations will be announced this Friday -- but there are a few notable names you won't be seeing on the list!
Due to the Recording Academy's eligibility restrictions, some of the year's hottest albums and songs won't be making the cut for the 61st Annual GRAMMY Awards -- which will be held on Feb. 10, 2019, on CBS. The eligibility period for this year's awards included music released between Oct. 1, 2017, and Sept. 30, 2018, meaning any songs, albums or videos released in October or later will have to wait another year for their shot at the golden gramophone.
Additionally, the Academy's stipulations on the Best New Artist award mean that recent breakout chart stars like Cardi B and Post Malone might seem to be snubbed for one of the GRAMMYs' most confusing and controversial prizes.
Read on to see which omissions shouldn't take you by surprise come Friday morning -- and tune into ET Live for all your coverage of the 61st Annual GRAMMY Awards.
A Star Might Be Born -- But Not Until 2020
Ally and Jackson might have to wait another year for their shot at GRAMMY glory -- and hopefully, it will go a little better than in the film.
While Lady Gaga and Bradley Cooper's lead single from their reimagining of A Star Is Born, "Shallow," is eligible for nomination this year, the full soundtrack wasn't released until after the GRAMMY eligibility period -- due in part to producers' desire for viewers to not be spoiled by the songs and dialogue included in the track list.
"We didn't want to release the soundtrack before the movie because the soundtrack really is the story of the film," producer Lynette Howell told The Hollywood Reporter of the decision. "There are multiple tracks in there that are soundbites from the film and so it was really important that people experience them simultaneously and it was important to Bradley that audiences got a chance to experience the movie first or at least alongside."
Fans will have to wait until this time next year to see if the soundtrack's other standout hits -- including Cooper's country-tinged numbers, the closing ballad "I'll Never Love Again" and Gaga's poppier performances in "Hair, Body, Face" and "Why Did You Do That?" -- get any GRAMMY love.
(Coincidentally, another former Star Is Born star, Barbra Streisand, also won't be nominated this year for her new album, Walls, which was released after the eligibility window.)
---
Best New-ish Artist
Perennially one of the GRAMMYs' most controversial categories -- last year, Alessia Cara was forced to defend herself in an open letter after the vicious backlash to her win over "newer" nominees like SZA, Khalid and Lil Uzi Vert -- this year's Best New Artist crew will omit a few big names that might raise some eyebrows.
Cardi B took home the Moon Person for the VMAs' Best New Artist back in August, but the Recording Academy has already announced that she won't be eligible for the award at the 2019 GRAMMYs due to previous nods in last year's show. (The rapper's breakout single, "Bodak Yellow," was nominated for Best Rap Song and Best Rap Performance at the 2018 GRAMMYs -- through she didn't secure a Best New Artist nod.)
Other names who leveled up in popularity this year but won't be on the list of nominees? Post Malone and controversial late rapper XXXTentacion, whose respective rises to success started just a little too early to qualify for this round of Best New Artist. Troye Sivan's name has also been tossed around as a potential nominee (though arguably, his breakout came with 2015's Blue Neighborhood) and Camila Cabello could potentially end up on the list as a solo artist, despite first breaking on the scene with Fifth Harmony back in 2012.
So who could make the list? Some frontrunners include "New Rules" songstress Dua Lipa, "Boo'd Up" crooner Ella Mai, rapper Lil Pump, Latin sensation Ozuna and country stars LANCO. As for the GRAMMYs' signature eccentric pick (remember Esperanza Spalding's 2011 win over up-and-coming Canucks Justin Bieber and Drake?), how about the confusingly named but undeniably rising rock act Greta Van Fleet?
---
Thank U, Next Year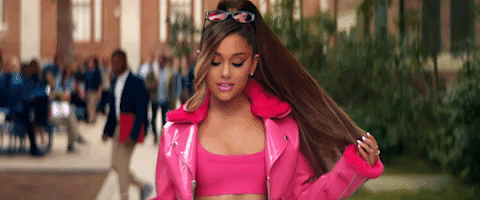 Ariana Grande's fourth studio album, Sweetener, is eligible for the 2019 GRAMMYs, but her undeniable hit of the year has been the post-breakup anthem "thank u, next" -- reportedly the lead single of her next album, which is already in the works.
Unfortunately for Ari, the post-Pete Davidson track -- which is, somewhat unbelievably, her first-ever No. 1 hit -- won't land her a GRAMMY nom, at least not this year. But, if the thank u, next album is anywhere near as catchy as its lead single, we'll no doubt be talking about more nominations for the throwback queen this time next year. What, like it's hard?
---
Other Notable Non-Noms
There's already been plenty of great music released since Oct. 1, leaving many fans hoping that GRAMMY voters have a long memory. Some early picks for possible noms at the 62nd Annual GRAMMY Awards in 2020 include Anderson .Paak's stellar new offering, Oxnard, and Robyn's return to the pop charts with Honey. Perennial nominee Miranda Lambert also missed the cut this year with her Pistol Annies supergroup and their new album, Interstate Gospel, though they'll no doubt get lots of love at country music's many awards shows.
Some recently released songs that will also have to wait for their shot at GRAMMY glory include Miley Cyrus and Mark Ronson's new offering, "Nothing Breaks Like a Heart," the super-hot Selena Gomez/Cardi B/Ozuna/DJ Snake collab, "Taki Taki," and all of Meek Mill's chart-toppers off of his new album, Championships.
Watch the 2019 GRAMMY nominations on ET Live starting at 5:30 a.m. PT/8:30 a.m. ET on Friday. The 61st Annual GRAMMY Awards air Feb. 10, 2019, on CBS.
RELATED CONTENT:
Kacey Musgraves, Willie Nelson and More Country Stars to Honor Dolly Parton
'A Star Is Born' Soundtrack: How It Achieved Such Massive Success
Ariana Grande's 'Thank U, Next' Director Reveals Which Iconic Scene Didn't Make the Video (Exclusive)
Related Gallery