TV
'Shadowhunters' Star Harry Shum Jr. on Why Malec Is Totally 'Shipworthy' (Exclusive)
By
Freeform
Welcome to Shipworthy, TV lovers!
Each week, ET's resident small screen romance expert, Leanne Aguilera, will be traversing the high seas and investigating one of TV's most swoonworthy ships. Sail along to relive the sweetest moments, hottest makeouts and more -- and then head over to Twitter to let us know what you loved and which ships you'd love to see more of!
This week's ship: Malec, aka Shadowhunters' Magnus Bane (Harry Shum Jr.) and Alec Lightwood (Matthew Daddario). The bond between the New York Institute Shadowhunter and the High Warlock of Brooklyn may have been unexpected for their friends and family, but for fans of the Freeform series -- and the Cassandra Clare books -- this pairing has been in the cards since the very beginning.
The first encounter between the warlock and the archer had fans hooked in three little words...
...and the chemistry-packed moments that followed only solidified their strong connection.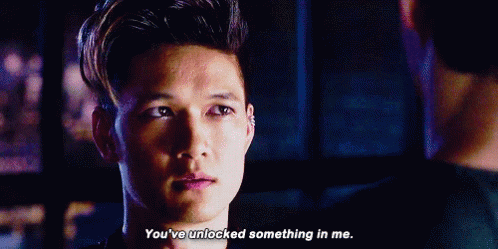 But Malec's first majorly swoonworthy moment came when Alec decided to follow his heart rather than his obligations, walking out on his wedding to Lydia (Stephanie Bennett) and making his intentions clear to Magnus.
"It's in the beginning and they're learning so much from each other," Shum Jr. recently told ET of the pair's relationship. "So I think it's when it's in the beginning stages, [that's] when a lot of people love watching."

Magnus and Alec have proved to be an unstoppable pair, whether it's fighting by each other's side...
...or fighting for each other's souls.
And their first "I love yous" were nothing short of epic, after Alec feared the worst when they were separated on a mission.
"I think anyone who's ever been in a relationship, or maybe haven't, [have] felt that thing – that thing that you'll fight to the death for," Shum Jr. said of the pair's bond. "I think when you see this couple, especially with Magnus, [Alec] unlocks something in him and he wants to be able to – almost he would die for him in a way."
"When you see that -- whether you want to call it soulmates, or you want to call them a couple that you yourself would die for them to still be together -- I think the fans really react to that."
And while the pair are constantly battling the demons and supernatural threats that plague their world, they're at their best when they're simply caring for each other.
Plus, THAT CHEMISTRY.
"I mean, you have a magical warlock and a demon hunter come together, and you get to see a softer side of them, they're not just killing [demons] or saving the world," Shum Jr. noted. "They are in a couple, in a relationship that is very meaningful."
Last week's midseason finale saw a major change looming for the couple, as Magnus gave up his magical powers to save Jace (Dominic Sherwood) from Lilith (Anna Hopkins). So what's next for Malec in the second half of season three?
"I mean, there's… [a] fight to the death, that's really what it comes down to," Shum Jr. teased. "Not just for the people around them, but also for each other, which is a big part of – especially Malec – and I think what's great is finding out who's fighting for who. So that's going to be the tease."
See more on Malec in the video below, and hit us up on Twitter for more swoon-inducing Shipworthy content -- and to tell us about your favorite pairs! Happy shipping!
RELATED CONTENT:
EXCLUSIVE: 'Shadowhunters': Harry Shum Jr. Plans Malec's Dream Date! (Exclusive)
EXCLUSIVE: 'Shadowhunters' Star Harry Shum Jr. Reacts to the Possibility of Malec Moving in Together! (Exclusive)
Comic-Con 2017: 'Shadowhunters' Cast Reveals Major Season Finale Shocker & a Malec Romance Update!
Related Gallery