News
13 of Busy Philipps' Best Celeb Stories From 'This Will Only Hurt a Little'
By
Getty Images/The WB/YouTube
Busy Philipps' new book, This Will Only Hurt a Little, is a heartfelt and hilarious look back at the 39-year-old actress' life and career to date, with stories that span the celebrity stratosphere. From her life-changing role on Freaks and Geeks, to meeting best friend Michelle Williams on Dawson's Creek, to finding new fame through her candid and often comical Instagram Stories, Philipps is a talented storyteller with a unique perspective on the ups and downs of the Hollywood fame machine.
As Tina Fey -- whose company is producing Philipps' upcoming late-night talk show on E! -- notes on the back cover, "This book is honest, intimate, and well observed by a person who has observed some s**t." And it's true. Philipps pulls no punches in her first memoir, offering her side of the story when it comes to uncomfortable on-set encounters, dishy behind-the-scenes moments and a tale of a crappy, spotlight-stealing ex-boyfriend that will have you ready to go full Tonya Harding.
Here are a few of the craziest and most candid anecdotes from This Will Only Hurt a Little:
1. Lady Gaga yelled at her on Election Night 2016.
The final chapter of Philipps' book details the 2016 presidential election, which wound its way through a heavy, transformative moment in the actress' personal life and found her at ground zero with the Clinton campaign at the Javits Center in New York City on Nov. 9, 2016. As the results started to roll in, and it became clear that history of a different kind was being made that night, Philipps remembers getting a public pep talk from Mother Monster herself.
"When I started to cry," she writes, "Lady Gaga pointed at me from across the room. 'NO! WE NEED POSITIVITY!!!!!! NO TEARS! THIS ISN'T OVER!'"
2. She f**king co-wrote Blades of Glory and NOBODY KNEW IT.
One of the most revelatory career-related anecdotes in Philipps' book is the story of how she co-wrote Blades of Glory, the 2007 comedy that teamed up Will Ferrell and Jon Heder as male figure skaters hilariously paired together after being banned from individual competition. The news may surprise anyone who doesn't spend their time scouring the film's Wikipedia or IMDb page -- where she is listed with a "Story By" credit -- but Philipps' side of the story is decidedly more complicated.
The actress recalls the moment she and then-boyfriend Craig Cox came up with the idea for the film -- while she was shooting White Chicks in Vancouver and watching endless amounts of ice skating on TV -- and recounts how she and Cox broke down the outline and drafted the script with his brother, Jeff, even writing in a love interest role for Philipps to play. Then, the brothers dropped her name from the script and sold it without her.
"I had a hard time recovering," Philipps writes. "It wasn't the script. It was that I'd been so easily thrown out, like trash. I was in the way of their success, I guess? Collateral damage. And in order for them to do this insanely sh**ty thing to me, they vilified me and told me I was crazy. The story became that I was the one who had tried to STEAL ideas from them, that I was ALWAYS just looking out for myself. THEY had come up with this AMAZING STORY, and I was the less-than-talented girlfriend trying to glom on to their talent and carve out a piece for myself. A piece that I didn't deserve. I had a hard time figuring out what was real."
3. And by the way, Amy Poehler continues to be the G.O.A.T.
At the after-party for the Blades of Glory premiere, Philipps recalls getting a bit of absolution for the debacle from a no-nonsense Saturday Night Live alum. "Amy Poehler grabbed me. 'Girl,' she said. 'Seth Meyers told me the story of what those dudes did. F**K 'EM! You rock and are so talented. Come here! Sit at our table!!"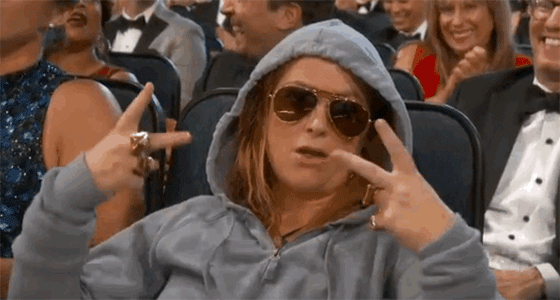 ---
4. Heath Ledger missed her wedding -- but made up for it in a serendipitous way.
Philipps admits to understanding the mystique around her friendship with Ledger, who dated her best friend, Michelle Williams, from 2004-07 before his death in early 2008. "I understand the public's fascination with Heath's death, with him in general, as a cultural icon or as the greatest actor of a generation or whatever." However, she steers clear of too many personal stories about the enigmatic actor, besides an anecdote about how Ledger missed her 2007 nuptials to Marc Silverstein due to filming on The Dark Knight, but ended up sitting next to the couple at lunch months later, as they signed their wedding license. "We laughed that he had somehow managed to make it to our wedding anyway."
Of Ledger's untimely death, Philipps simply remembers the day she found out -- pregnant with her first child, daughter Birdie, and having just introduced her husband to her ex-boyfriend, Colin Hanks -- and offers a sweet tribute to the late star. "For me it was really simple. He was my best friend's love and the father of her child. My beautiful magical goddaughter. A child we all love so dearly, who has so much of him in her, without even trying. He was my friend and I loved him."
---
5. Courtney Love is either the best or worst wingman of all time.
Philipps doesn't seem to have too many starstruck moments, but a major one came in 1999, when she and the Freaks and Geeks cast attended the Man on the Moon premiere, courtesy of Judd Apatow, and the actress ran into one of her all-time idols, Courtney Love. Halfway through her gushing introduction, however, Philipps realized that the encounter wasn't quite going as planned. "Her look literally cut me off. She narrowed her eyes at me and said, 'This is my friend Paul. Isn't he hot???? Don't you want to F**K HIM?'"
The bizarre encounter didn't end there. Philipps recalls returning to her Freaks and Geeks co-stars, only to be informed by Samm Levine that the Paul in question was in fact, Paul Rudd. "Obviously, in retrospect," she notes, "I couldn't have asked for a more Courtney Love encounter."
6. Courteney Cox, however, is the best kind of friend.
Philipps gets candid about her difficult postpartum journey, both personally and professionally, after welcoming Birdie in 2008, who would be joined by a sister, Cricket, in 2013. It was in the early days of shooting Cougar Town, she writes, that new friend and co-star Courteney Cox made a point of asking how she was handling motherhood so far.
"A few weeks into shooting, Courteney and I were having lunch at our new favorite place in Culver City," Philipps remembers. "She was asking me about Birdie and Marc -- we were all still pretty much getting to know each other. Then she asked me if I had been to therapy recently, since Birdie was born, or if anyone had talked to me about medication. I think it was clear to her that I was in a postpartum fog of anxiety and she could just tell that I needed more help than I was currently getting."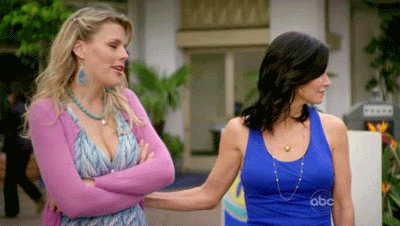 ---
7. By the later seasons of Dawson's Creek, the cast were, in fact, waiting for their lives to be over.
As Philipps tells it, by the time she became a cast member on Dawson's Creek in season five, her fellow stars weren't super chummy, though she says everyone was kind to her. She became fast friends with Williams, and the pair remain close to this day, but the rest of the cast -- which at the time included James Van Der Beek, Katie Holmes, and Joshua Jackson -- wasn't too keen on spending much time together outside of filming, something that struck the actress as slightly strange after her close-knit experiences on Freaks and Geeks.
"One day, the whole cast was sitting around a table filming the Thanksgiving episode, and James looked at me and said, 'See? You got lucky. Your show was canceled after the first season,'" Philipps recalls.
As for clashing personalities among the Dawson's cast, who had been rocketed to teen super-stardom in the years prior as the show found massive success, Philipps remembers a few rough patches.
"Josh really fancied himself 'one of the guys' with the crew," Philipps says of Jackson. "He's a good guy and just wanted to be well-liked, but I wish I'd known the term 'mansplaining' when I met Josh. His ability to turn a conversation into a dissertation was incredible."
---
8. Michelle Williams once dressed up as Angelina Jolie for Halloween.
The Dawson's cast often felt isolated while filming in Wilmington, North Carolina, Philipps explains, but they occasionally got to go out for a night of fun -- especially on Halloween.
"Michelle went as Angelina Jolie, with a vial of Billy Bob [Thornton]'s blood around her neck. I did her makeup and was really proud of myself," she writes of one year's festivities. "It was fun for her, I think, to be in costume and not have people know who she was. She was clearly very famous, and in Wilmington, the college kids who attended UNCW were always seemingly on the lookout for one of the Dawson's kids."
9. Chad Michael Murray is not a douche, and actually the kind of guy you want on your side in the case of a random bar injury.
Philipps made headlines back in 2009 when she referred to her former Dawson's Creek co-star as a "d**che" during a panel at the Paley Center. She walks that moment back a little in her book, admitting that Murray "didn't do anything wrong -- his vibe was just not for me."
"He was a real MALE ACTOR, and I have a hard time trusting dudes that are that good looking and know it and somehow try to prove to you they're so much more. I sound like an a**hole, I know. I'm sorry. He just reminded me of a guy on the football team who carries around a guitar so people think he's deep but really he just knows the G chord. Like how [James] Franco carried Dante's Inferno around on set."
However, when she dislocated her knee during a drunken fall at a Wilmington bar one night, she had a momentary change of heart about the up-and-coming heartthrob.
"Chad Michael Murray, who you judged as a d**chebag," Philipps writes in a note to herself, "will stay the whole time and hold your f**king hand."
---
10. Amid the garbage men of Hollywood are a few upstanding guys.
Philipps details an uncomfortable encounter with Harvey Weinstein in Kirsten Dunst's trailer on the set of Get Over It, as well as the way Quentin Tarantino once fangirled over one of her lesser-known television roles before she eviscerated him on Twitter for his infamous Howard Stern interview. She even throws a few pointed shots at Modern Family creator Steve Levitan, who went out of his way to be a "real f**king dick" to her after she won a Critics' Choice Award for Cougar Town in 2011.
But amid the trash are a few stories of well-meaning men, such as Freaks and Geeks creator and producer Paul Feig, who sat Philipps and Linda Cardellini down after they started dieting during filming and "tried to tell us that we'd been hired because of what we looked like, that we were perfect the way we were, and that he wanted to make sure we didn't feel any pressure to be thin from anyone, because that wasn't what they wanted." She also prints, in full, an email from Party Down creator Rob Thomas, sent after the network wouldn't let him cast her due to her post-pregnancy weight. The kind message raves about Philipps' performance as Freaks' Kim Kelly, though at the time it was, understandably, little consolation.
---
11. Sharon Stone totally called her success.
Early in her career, Philipps was working for Mattel, performing as a Clueless-themed Barbie doll when an A-lister caught her spot-on act as Alicia Silverstone's character, Cher.
"The day the CEO of Mattel, Jill Barad, came through was especially exciting because she brought Sharon Stone with her," Philipps reminisces. "The Sharon Stone. This was 1996. This was PEAK SHARON STONE. The two impeccably dressed women watched me with bemused expressions as I gave my little performance, and then Jill raised her hand to stop me and they both clapped. Sharon swept her scarf over her shoulder and as she was walking out turned to me and said, in her very best Sharon Stone, 'You're very talented and I think you're going to be a big star someday.'"
12. Don Draper was there when her daughter was born.
Well, sort of. After marathoning the first season of Mad Men in the weeks leading up to the birth of her first daughter, and eschewing "the drugs" in the delivery room, Philipps recalls a hallucinogenic journey to Madison Ave. as she made one final push to deliver Baby Birdie. "I pushed so hard and lay back. I opened my eyes and I was in the boardroom of Sterling Cooper. Dressed as Peggy. At the end of the table was Don Draper and Pete Campbell."
"Pete said, 'I don't think she can do it, Don.' And Don took a drag of his cigarette and said, 'Oh she's gonna do it, Pete. She's gonna do it.'
And then I was back. Marc said I was only out for a few seconds, but when I came to I was saying under my breath, 'I can do it, Don. I can do it. I'm gonna do it.'"
---
13. And the ghost of Merv Griffin inspired her upcoming talk show.
Anyone who follows Philipps on Instagram knows she has the star power and dynamic likability to make Busy Tonight a hit, but according to the actress, the idea actually came from a slightly-stoned night at the Merv Griffin estate in Palm Springs.
"I'm supposed to be a late-night talk show host!" she remembers telling her husband as they sat by the pool. "I'm supposed to be the first woman host of The Tonight Show!"
When Silverstein noted that Jimmy Fallon might have something to say about the idea, Philipps clarified. "Not like tomorrow. But it's mine. I'm going to do it. I need a late-night show. This is what I'm supposed to do, Marc. I'm telling you. The ghost of Merv Griffin is sending me a sign."
RELATED CONTENT:
RELATED: Busy Philipps Details James Franco's Alleged Assault on 'Freaks and Geeks' Set in New Book
FLASHBACK: Busy Philipps Recalls Defending Michelle Williams' Honor in a Bar Fight During 'Dawson's Creek' Days
TV: Busy Philipps Admits She Never Watched 'Dawson's Creek'
Related Gallery