News
'American Idol': Thanks for the Memories!
By
FOX
It's the beginning of the end … and finally?
After 15 seasons and the launch of music career after
non-music career after non-music career, American Idol won't just be
Seacrest Out -- the whole shabang is signing off for good.
Are you crying so many Paula Abdul tears right now? Or are
you counting down the days till one of TV's greatest guilty pleasures frees up
some much-needed space on your DVR? Whatever you're feeling, here are some Idol milestones that prove that, even at its worst, some of TV's best moments
were made in front of a mic.
1. The Original Idol
It's hard to believe that we even had to vote Kelly Clarkson
into the Idol Hall of Fame. Alas, we did, she cried, and then she
conquered. But a good Texan gal doesn't go on to score nearly 100 No. 1s on the Billboard charts and forget her
beginnings. And how could we? Here, in 2002, the Idol icon snatches her
crown – while giving us the cutest of Cute Cries – during "A Moment Like This,"
a song that has thankfully not defined her career. Pass the tissue.
2. Best Flirty Feud
They were often split on who could and couldn't sing, but
judges Simon Cowell and Paula Abdul agreed on some things. For instance:
strawberries! Despite their differences, the two came together to mock their
rumored affair in this skit, during which they shared a juicy berry… and an
equally-as-juicy lip-lock.
3. Best Not-Fake Feud
In its 12th season, the FOX juggernaut was still a sing-off
where young hopefuls vied for the top spot, but you wouldn't know it with
Mariah Carey and Nicki Minaj around. Was the drama between the divas a
distraction? Yes. Was it hilarious and catty and such good shade you wished
it'd never end? Absolutely. And for all that meme-worthy side-eye, we owe you gratitude,
girls. #BLESSED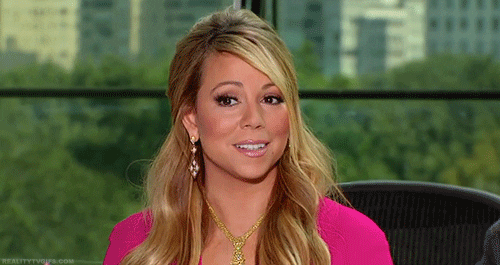 4. 'Crying Girl'
It's still a mystery to this day: Why would anyone cry
uncontrollably over Sanjaya Malakar? You know, unless they were in physical
pain from hearing the Season 6 finalist mangle another note. "Crying Girl," aka
Ashley Ferl, was not experiencing the earache we all were every time the shaky
singer took the stage.
5. More Crying (Thanks, Paula!)
When Paula Abdul wasn't slurring her words,
she was erupting into a river's worth of waterworks. Paula is forever our
Idol girl if only because she didn't hold back -- not advice-wise (because,
yeah, she
was Mother Hen up there), but with her drunken emotions.
6. J. Lo: Making Dreams Come True One Manolo at a Time
What was American Idol's style budget anyway? Because
whether stunning
in a technicolor dress or strutting in Christian Louboutin pumps, Jennifer
did not leave the house for "work" without looking like a million bucks.
7. A Rock God Is Born
Glamberts: Imagine your lives without Adam Lambert. You
can't even, RIGHT? For his dear devotees, it was love at first sight, as Season
8 of Idol introduced his glorious range (omg "Mad World"!) and sexy
stage presence to the world. Each time Lambert stormed the Idol stage,
he pushed limits -- vocally and otherwise -- demonstrating that you don't have to
take top prize to get to the top.
8. Best of the Worst
For every Idol champ, there was a chump. And then
there was William Hung, the viral warbler who, uh, "charmed" the judges with an
infamously awful rendition of Ricky Martin's "She Bangs." Thanks to Hung, the
benchmark for our favorite part -- the bad auditions -- had been
raised. And one contestant was about to rival it…
9. Best Song About Not Wearing Pants
If this clip is any indication, guest judge Mary J. Blige has not gotten over hearing then-62-year-old Larry Platt talk-sing his viral rap ditty, "Pants on the Ground." MJB is just a few laughs away from rolling on the floor as she witnesses Platt take on an anti-pants sagging song. The civil rights activist -- no joke -- at least used the Idol platform for... positive change?
10. The King of 'Mean'
Dishing out disses like no other, the prickly-yet-lovable
Cowell had zero qualms about keepin' it real when it came time to send
contestants back home so they could continue living their delusional lives. The
show's Dream Dasher was never shy with his feelings, telling Season 6's Haley
Scarnato: "Can I tell you the problem? Do you know what I said to Paula halfway
through the song? I don't know your name." Oh snap!
11. 'All-American Girl' Goes Hollywood
She wasn't always Carrie Underwood as we know her now. Seven GRAMMYs. Sixteen Billboard Music Awards. Eleven Academy of Country Music Awards. More than 65 million albums sold worldwide. AND EVEN A GOLDEN GLOBE NOMINATION?! But remember: Before the down-home darling tore up a cheatin' lover's ride, she was tearing up your TV.
12. The Short-Lived Phenomenon of Brian Dunkleman
Apparently Idol could only handle one host with Barry Manilow hair. After the show's 2002 debut season, Ryan Secrest's sidekick, Brian Dunkleman, made a run for it. With the public confused and curious about his departure, he later said he just couldn't stand making kids cry. Now he's a stand-up comedian. Based on this tweet, Dunkleman just might be getting the last laugh.