After eight seasons of post-apocalyptic twists and vicious undead turns, the 18-year-old actor is spilling some behind-the-scenes secrets from some of his favorite 'Walking Dead' moments.
Carl's fate has been sealed.
When The Walking Dead's eighth season returns this Sunday, Feb. 25 on AMC, fans should be armed with a box full of tissues and at the ready to say a heartbreaking goodbye to Rick Grimes' (Andrew Lincoln) teenage son. It was revealed in the undead drama's midseason finale that Carl is on the brink of death, thanks to a Walker bite on his ribs, and audiences were openly outraged over this shocking turn of events.
But how did Carl himself, actor Chandler Riggs, react when he first learned the news of Carl's doomed fate? "It was kind of the same reaction that everyone else had," Riggs revealed exclusively to ET during a Facebook Live interview on Wednesday. "Just really surprised and unexpected."
The Walking Dead's showrunner, Scott M. Gimple, broke the news of Carl's impending death during an in-person sit-down with both Riggs and the 18-year-old actor's parents just before production of episode 806.
"When Scott kind of explained it all to me, it really made sense for the story and for everyone's characters," he recalled. "It made sense for it to drive the story forward and take it to where it's supposed to be going."
"It really sucks to be off the show," Rigs added. "I had such a great time and it was really, really awesome to have eight years [on The Walking Dead]. It's definitely an experience that I don't regret."
Riggs was just 10 years old when he was cast to play Rick Grimes' precocious son on the comic book-inspired drama. Now, after eight seasons of post-apocalyptic twists and vicious undead turns, he is spilling some behind-the-scenes secrets from some of his favorite Walking Dead moments.
Carl's Infamous Pudding Adventure: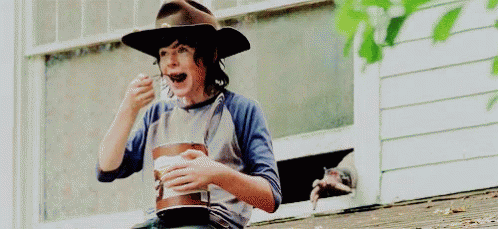 During episode nine of The Walking Dead's fourth season, Carl was treated to a very rare opportunity: the chance to just be a kid, sit outside on a nice day and eat 112 ounces of chocolate pudding!
"I don't blame him and I don't think he had had pudding in years," Riggs reminisced with a laugh. "I luckily didn't have to eat the whole thing, thank goodness. I only ate, like, a quarter of it, but that still was a lot of pudding. It was a good, like, five pounds of pudding that I had to eat."
Riggs continued, "But that scene was way fun to film -- actually that whole episode was. That whole episode of episode nine was so much fun just because it was all focused on me and I really got to push my boundaries and that was really fun."
Chandler's Birthday Blast:
When asked about his most memorable moment from the past eight years, Riggs was quick to share the "big deal" of how the cast and crew celebrated his 14th birthday.
"I think my number one favorite moment was in episode [five], season four. Basically, a bunch of walkers are at the prison and they break down the fence and they burst into the prison, so Rick and Carl, like, mow down all of them with machine guns," Riggs explained.
"That was the coolest thing ever because Georgia labor laws restrict children under 14 from touching any firearms on set, so we shot that the night of my 14th birthday," he beamed. "And Andy came over and, like, knighted me with a machine gun and everyone counted down and it was the coolest thing ever. I felt like I was in a video game. It was so much fun to shoot and so much fun to do."
Hats Off to Carl: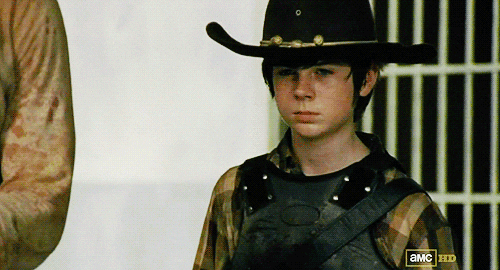 Over the course of eight years, fans watched Carl grow from an innocent little boy to a competent zombie-killing adult -- and he did it all while wearing his father's infamous sheriff's hat.
"I had multiple hats," Riggs said of the now-iconic prop. "I actually had the same hat from the second season up until season four or five and I was like, 'This thing is way too small! We've got to upgrade.' And I think actually by season seven or eight I had Andy's old hat from season one which is pretty cool."
Riggs revealed that when he finished his final scene of the series, the Walking Dead production team gave him with a special parting gift. "Actually when I wrapped, they gave me a hat from the first season that Andy wore and a Science Dog T-shirt that I wore in season one and it was framed and it was really cool. It was a really cool send-off."
The Walking Dead's eighth season returns this Sunday, Feb. 25 at 9 p.m. ET/PT on AMC.
Hey, TWD fans! Once you've watched Carl's big goodbye on Sunday, be sure to check back to ETonline immediately after for exclusive details straight from Riggs about the episode's most shocking and heartbreaking moments.
RELATED CONTENT: